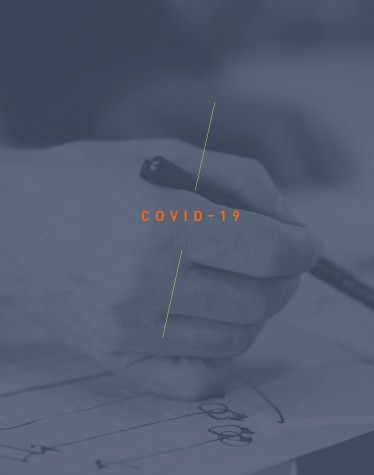 COVID-19 Response
Leadership During a Pandemic
Now, more than ever, leadership in a time of change and uncertainty is crucial to advancing our institutions and society. Farnsworth Group has been calling on our leaders to take a front-and-center role in our clients' challenges stemming from the COVID-19 pandemic. 
More than ever we are advocating for our clients by ensuring we make them successful through our experience and knowledge of the latest research and practices.
We have been working to find creative ways to:
utilize our experience and research regarding mitigating airborne virus transmission pathways for helping our clients evaluate their risks

reduce costs through assessing facilities and crafting a plan for prioritizing capital dollars; now, more crucial in a time of increasing budget pressures​

assist the healthcare market in managing uncertainty surrounding their business through infrastructure upgrades, risk evaluations, and frequent discussions about their facilities

educating the industry as national leaders in keeping facilities safe and reliable
Our people realize the urgent call to action. Currently, there's much that can pull us down, but we prefer to stay focused on the needs of today, helping each other in new ways, and preparing for a reimagined world.
How we are Helping Clients
Taking Care of Business.
Responding to the pandemic came naturally as we continued to do what we've always done - take care of our clients. Many of our healthcare clients started new projects or renovations in response to COVID-19. Clients in other markets, like municipal, are taking design to completion and then waiting to see what conditions exist for construction material costs and availability. Still others are continuing business as usual.
Responding Quickly — When the need for additional healthcare capacity emerged, Farnsworth Group mobilized our engineers to provide rapid response design to renovate existing facilities into isolation care facilities, most recently at the Fox Development. Farnsworth Group employed our full-service capabilities to overcome scheduling constraints.
Assessing Risks — Knox College, located in Galesburg, Illinois, has been enriching students in the liberal arts and sciences for close to two centuries. The College's leadership team created a comprehensive, all-encompassing response to COVID-19 in order to ensure that the entire collegiate community could continue to thrive in the new COVID environment. Farnsworth Group has had the honor of assisting with that response by offering space planning guidelines and mechanical system consultation, so that the beautiful and storied Knox College campus can continue to focus on the education of students.
Staying on the Cutting Edge of Research — When a college campus turned to our engineering team to help reduce the spread of airborne pathogens, we built custom spreadsheet calculators and other engineering tools based on the latest industry research. This allowed us to quickly mobilize a team to review multiple buildings efficiently and cost effectively. 
Reimagining Design
COVID-19 is already impacting how we design future projects. Owners are rethinking space planning in offices, mechanical systems in buildings of every type, and certainly communal spaces are changing in offerings and furniture. Finishes are more durable to allow for robust cleaning measures and products. More than ever we are advocating for our clients by ensuring we make them successful through our experience and knowledge of the latest research and practices.
Solving COVID-19 Challenges - Lending a Hand
Healthcare Rapid Response Services — Our team of architects and engineers in our Healthcare Studio are well-versed in healthcare standards and performance guidelines and stand ready to assist. We are fielding calls from our clients on a day-to-day basis, providing guidance on how our healthcare professionals can best accommodate the public.
Facility Readiness — Our MEP team identified a process to help schools and facilities identify how to ensure readiness for returning occupancy. We teamed with ASHRAE Epidemic Task Force members like SETTY & Associates to provide readiness assessment services influenced by the latest research and studies.
MEP Systems — Thinking through the technology of today, with requirements for tomorrow is our MEP Team's priority. 
/ For more information regarding COVID-19 and how we can help, contact mwolf [at] f-w.com (Mike Wolf, PE.)target="_blank" title="Brian Myers"