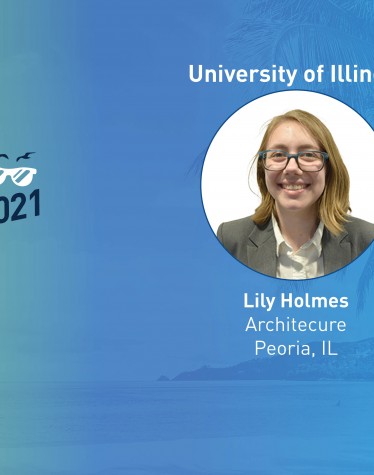 Summer Intern Lily Holmes
I began my internship at Farnsworth Group in 2020, right around the time the pandemic went into full swing. I was honestly surprised they were hiring interns—so many things had shut down, and I wasn't sure how the field of architecture was going to pan out. But thankfully, there was space for me, enough work to keep me busy, and I'm glad I had the opportunity to work here.
Obviously, this hasn't been a normal experience in the workforce, but nothing this last year and a half has been. There isn't any way a degree in architecture can prepare you for working during a pandemic. For instance, I only saw some members of the Architecture team face-to-face on a semi-regular basis. The rest of the team had portraits printed and stuck to the backs of their chairs so that I could form a mental picture of who I was working with. By the end of my second year here, I've seen all the architects in person at least once. The most surprising thing about meeting them in person was their height. My mental image was wrong on all accounts regarding how tall or short my remote coworkers were.
Despite the challenges of working in a collaborative field during a worldwide pandemic, it was a really great experience. I worked on a lot of projects over the last two years performing tasks such as 3D modeling, correcting redlines, and even doing some product research. This variety formed a more complete picture of what working in architecture is like. I was able to see enough aspects of a project during its lifespan to get an idea of how these things work.
One of the projects I've really enjoyed working on this year is the Peoria, IL, Women's Club Building Restoration. I personally like the unique challenges that come with historic preservation in architecture, and this project was a great chance to work with that in a very real-world sense. During my time in college, very few studio projects have had anything resembling a client or a budget. It's been very eye-opening and rewarding to collaborate with our lead Project Manager (Ellen Adams) and the Peoria Women's Club Restoration Committee to find solutions that work for everyone. Not only that, but the existing building is beautiful and full of character. I've been lucky enough to visit frequently for site visits and meetings.
Overall, I have thoroughly enjoyed my time at Farnsworth Group. It hasn't been a typical internship, but everyone I've worked with made an effort to make things as normal and welcoming as possible. It's been fun and challenging and exciting, and I'm so glad that Farnsworth Group decided to hire interns during such an unprecedented year.