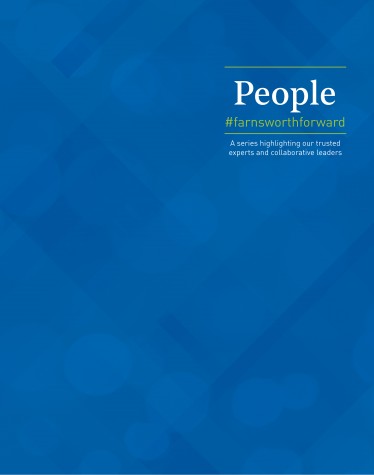 Continuing in our People, Passion, and Performance series, we recently spoke with Shawn Maurer, PE, who serves as a Senior Project Engineer for our Bloomington, IL office.
Quick Facts about Shawn
Outside of work, Shawn goes golfing and fishing, cooks, collects antique hand tools, and tries to keep up with his kids.
Shawn grew up in Knoxville, Illinois, where it taught him the value of being part of a community.
Recent Read: Dune
Shawn graduated with a BS and MS in civil engineering from Bradley University.
What's great about Farnsworth Group? Our team handles small scale municipal work to multi-year, multi-discipline projects, so there is a wide variety of projects and clients we get work with. I love the variety of work.
How has technology influenced your career? The role of video-teleconferencing during the pandemic has been huge. As a result, the amount of collaboration and work sharing has increased significantly across our various disciplines and teams.
How would you describe your work team? A Swiss army knife. Our team covers municipal engineering services, water/wastewater treatment, environmental studies, elevated tank inspections, annual motor fuel tax programs, and on and on.  We scale our services up or down as needed to get the job done, but there is a lot of ground to cover. Our team enjoys the challenge.
In your opinion, what takes an architecture, engineering, or survey project from good, to great? The great ones stand the test of time. Many of the clients our group works with have been working with Farnsworth Group for decades and still talk about completed projects from long ago. Those are the great ones.  
Why Civil Engineering? In high school, I participated in a job shadowing event at the City of Galesburg with one of their CE's. I remember flipping through a set of bridge replacement plans and thought to myself "I want to know how to do this."