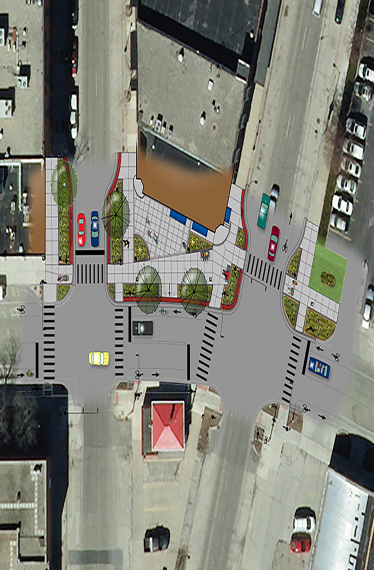 Downtown Intersection Upgrades Will Improve Safety
Farnsworth Group has been working closely with the City of Champaign in the redesign of a dangerous intersection into a safe and attractive gateway into the heart of the central business district.  Throughout the design process, Farnsworth Group has actively engaged both the Planning and Development and Public Works Departments to ensure the final design achieves both the functional and aesthetic goals expressed by the City.
The design provides attractive, pedestrian oriented spaces which minimize pedestrian and vehicular conflicts.  This is achieved by the use of corner 'bump-outs' and raised curb planters which safely guide people to designated pedestrian crosswalks.  The removal of several on-street parking stalls allows room for ample landscaping, along with a small pedestrian plaza which can be utilized by local businesses for al fresco dinning or as a public gathering space for pedestrians.  Other features of the design include fully compliant ADA crossings, new traffic signals and street lights, street trees, incorporation of on-street bike lanes,and various utility upgrades.