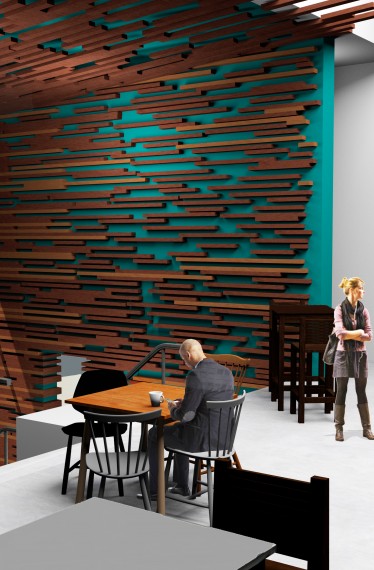 Modernizing the Historical 836 Washington Street Building
Farnsworth Group was hired to create the concept design for converting a historic warehouse into a modern retail and dining experience housing a coffee shop, distillery, and architectural salvage store. 
836 Washington Street will be an iconic building in Peoria's National Register Historic Warehouse District. The new, striking architecture will set the building apart from others in the District, creating a distinct brand for the 836 Building. The design will provide open lines-of-sight to an 'urban hangout' and coffee shop with the backdrop of heavy-timber wood trusses illuminated naturally by clerestory windows. 
The expansive views into the building capture the attention of passersby, drawing them in to the premier casual destination of the Warehouse District. Here, the public can take a break in an open coffee lounge while watching the street below. Large sliding walls between tenant spaces and the coffee lounge can be opened to create an expansive, free-flowing event space. Back-of-house tenant services will be accessed from the rear alley, out of view from customers and the street.