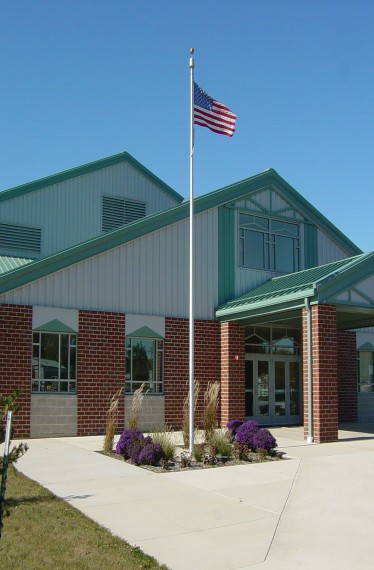 New Grade School Finished On Time and Under Budget
Fisher's new grade school is a 58,000 SF facility that includes computer alcoves in each of the 23 classrooms, a media center, a computer lab, a cafeteria, and a multipurpose room.  Also, separate rooms are provided for music and art.  Creative use of materials and decorative themes made this a very successful project – on time, under budget, and functional.  The gym was upsized to a 400-seat competition gymnasium to serve as the junior high school's court for basketball games.  Key to the interior design was development of a "school house" theme.  This took the form of decorative wall accents and "house form" bulkheads that break up the long corridors.  Site design also included a new baseball field.
In the pre-referendum phase, a schedule time line was developed showing occupancy in the fall of 2003.  That schedule was met, and the school opened on time.  Farnsworth Group also provided comprehensive engineering services for this project, including site, environmental, mechanical, electrical, plumbing, transportation, and land surveying.