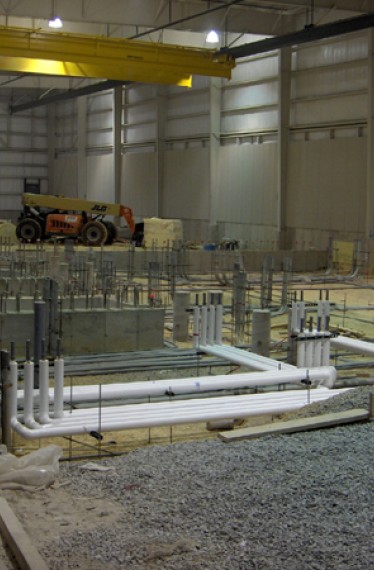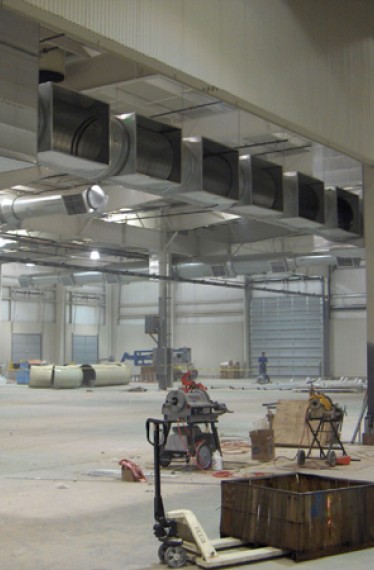 Spartan Light Metal Products Expansions
Initial Expansion
Farnsworth Group worked with Spartan Light Metal Products to accommodate its expanding manufacturing process. The scope of this initial expansion effort encompassed the addition of two robotic die-cast equipment cells and all associated process piping (eight different systems) and the necessary electrical system wiring. The project mandated that the facility upgrade their electrical service (3,000 amps, 480/277 volt) to a new medium voltage service (1,200 amps, 12,470 volt).
The project involved approximately 10,000 SF internal addition to the existing 94,000 SF facility.  A major challenge was to keep the existing facility fully operational for their 24 hours a day, 5 days a week process during construction.  Additional challenges included space allocation, systems operating in an industrial environment, designing for future expansion capabilities, as well as an aggressive design and construction schedule of only five months.  
West Expansion
Farnsworth Group again provided structural engineering services for another addition to this industrial facility.  This expansion added another 56,840 square feet to accommodate two new die-casting machines.  A high level of detail and coordination was required to accommodate the layout of the underground services required for the new machinery.  This expansion was designed and constructed within an aggressive eight-month timeframe.

Spartan Light Metal Products is an industry leader in both aluminum and magnesium custom die castings.  Spartan Light Metal Products works with a wide range of manufacturers, from automobile and trucks to power tools, electronic components and much more.