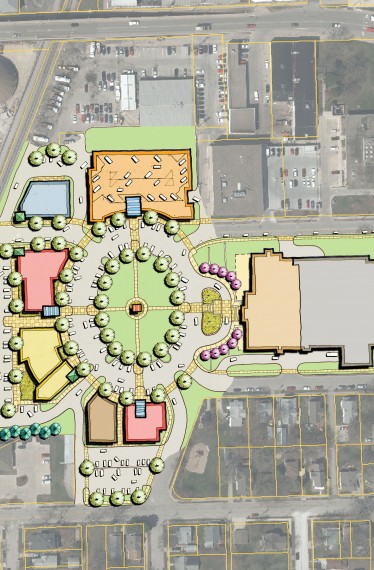 Unique Expansion Solution Creates Library Civic Campus
Working closely with the Bloomington, IL, Public Library, Farnsworth Group's multi-disciplinary team created a unique expansion solution which doubles the size of the existing library and re-energizes an underutilized portion of the city.
The plan envisions the current building to be expanded to 100,000 SF over two floors. To better knit the expanded building into the surrounding context, the design team developed a site plan which converts nearby underutilized parking lots, public works storage, and a waste transfer area into a bustling mixed-use neighborhood. Buildings are thoughtfully arranged around a central commons which can be programmed for both civic and library events. Parking is carefully incorporated into pedestrian friendly streets and tucked behind proposed buildings.
Services included separate visioning charette sessions with the General Public, the Senior Staff, and the Board of Trustees; a detailed assessment of the existing building and its components; and a comprehensive program of spaces for the expanded library.