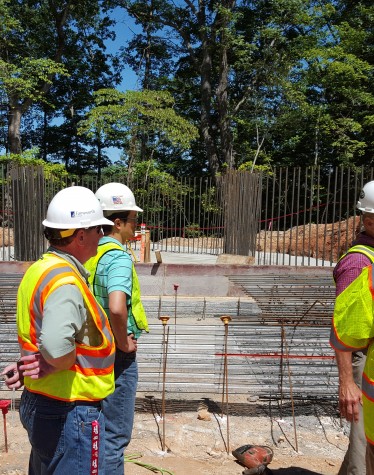 Safety & Health
Safety is Our First Priority
Nothing is more important than the safety and health of our employees.
Providing a safe work environment for our employees and customers is a commitment shared by all of our employees. We view it as both an individual and collective responsibility. From our Board of Directors, executive leadership and senior management to our valuable employees, we all share a role and responsibility in instilling a culture of safety and promoting a safe work environment.
We believe there is a direct correlation between the success of our clients and safety. Our commitment to achieving this goal is accomplished through:
implementing safety programs throughout Farnsworth Group to establish a culture of safety excellence;
providing training and the necessary resources so that employees can perform their jobs safely; and
monitoring adherence to safety policies and procedures to ensure compliance with all government safety regulations.
Farnsworth Group Safety Committee
Farnsworth Group's safety committee is comprised of employees from our disciplines and office locations whose primary objective is to support and enhance Farnsworth Group's Safety Program. The committee helps promote health and safety awareness, acts as a problem-solving group to help identify and control hazards and concerns, and helps resolve safety and health issues.
culture of safety
Employee involvement is key to our safety program. Employees are encouraged to participate through near miss reporting, safety minute talks, employee safety suggestions and concerns, safety committee involvement, and safety statistic reports.
Farnsworth Group is committed to ensuring the safety of every employee ... our business and clients depend on it now more than ever.
As our commitment to safety and our goal of keeping every employee out of harms way - whether at the office, in the field, or at home - Farnsworth Group employees receive safety announcements, safety tips, a monthly safety newsletter and online safety resources. All employees receive the 10-Hour OSHA training and certification to make them aware of common job-related safety and health hazards. Employees are offered additional training to ensure they have the awareness and tools needed to perform job tasks in a safe manner.