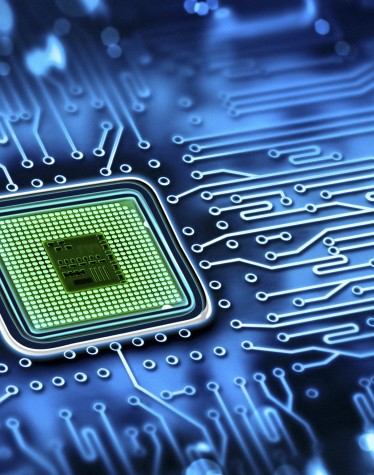 Advanced Manufacturing & Technology
Applications
The demand for advanced facilities to manufacture critical components and systems is at an all-time high, and companies in industries such as semiconductor, biotech, and aerospace rely on the latest technology to produce the most advanced products. In order to stay competitive, facilities need to be designed with speed to market, flexibility, and sustainability in mind.
That's where Farnsworth Group comes in. Our team has a wealth of experience in process systems and controlled environments, and we are dedicated to meeting each client's specific operational demands. We have a track record of working effectively with diverse teams of contractors, vendors, and users in various geographic regions. Our expertise in manufacturing equipment and systems allows us to optimize facility investments through layout, retooling, and utility demands.
At Farnsworth Group, we pride ourselves on our agility and knowledge, which help us streamline the design and construction process, increase operational efficiency, and reduce energy demand. We are always looking ahead to anticipate technological changes and plan for market volatility. Our team is skilled at finding innovative solutions to unique challenges faced by facilities and support systems. We understand what is important to project owners and strive to deliver exceptional performance and leadership on every project.
Areas of Expertise
Fab Clean Rooms – Manufacturing, SCIFs

Labs – R&D, Biotech, Formulation, Sterile

Process – UPW, Chemicals, Gases, Water Management

Process Mechanical – Cooling, Steam, Air, Support Utilities

Instrumentation & Controls

Telecom & Data

Life Safety & Fire Protection
Recent  Fab Projects
NEW GREENFIELD SEMICONDUCTOR FAB COMPLEX / CONFIDENTIAL CLIENT
A team of 35+ architects/engineers developed construction documents for five auxiliary support facilities for the Fab building, located on a 1,100-acre campus. The fast-track project required separate foundations, core and shell, and tenant improvement packages. Responsibilities included general oversight and coordination of the architectural team, coordination with owner, client, structural, and MEP teams, scheduling of resources, and document delivery dates. Additional responsibilities included AOR services for the Central Utility Plant, Water Resource Center, and other accessory buildings, as well as construction administration services and coordination with the general contractors.
BATTERY ASSEMBLING AND TESTING AREA / Confidential Client
Our team also served as a process system, system matter expert, and code reviewer for the new greenfield Fabrication Campus including multiple fabrication buildings, CUP, water building, chemical building, specialty gas buildings, and bulk gas plant. Technical review of site master plan, process system flow diagrams, P&IDs, equipment layouts, code review, permitting and infrastructure development support, and RFP development for design-build contracts. The project involved the design and renovation of a lithium battery assembly and testing facility. The assembly area was approximately 300,000 square feet and included receiving storage and assembly of lithium battery components. The testing facility, which was 50,000 square feet, included 11 explosion-proof test chambers equipped with smoke evacuation systems. In addition to these two main areas, the project also included the design of a 74,000-square-foot clean room and various quality control labs.
Ultrapure Water Distribution / Confidential Client
Farnsworth Group's experience in designing ultrapure water (UPW) distribution systems for semiconductor fabrication facilities is demonstrated in these two projects. Our team designed UPW and Hot UPW distribution systems for a new 240,000 SF FAB, performing full 3D design using Revit to integrate and coordinate with all building systems. Additionally, we provided schematic design engineering and hydraulic modeling for a new UPW distribution system to a 250,000 SF semiconductor fabrication facility for the same client. This involved developing process flow diagrams and P&IDs for each of the multiple water loops in the fabrication area, performing line sizing calculations for mains, submains, laterals, and bypass panels, and developing conceptual sequences of operations and pressure control philosophies. Our technical expertise and innovative design solutions demonstrate our commitment to delivering quality results that meet the unique needs of our clients in the microelectronics industry worldwide.
Recent Biotech Projects
Compounding Pharmacies / Confidential Client
Providing program management and full-service architecture and engineering services for compounding pharmacies in several states. The design team has implemented a quality standard around process efficiency and workflow, standardized equipment, system components, and finishes to create a uniform operational and brand image for this client. This company produces anti-aging and integrative therapies of both sterile and non-sterile products in 503a, 503b, and cGMP facilities.
University of Illinois College of Medicine at Peoria - Cancer Research Center
The collaborative Cancer Research Center project is part of the University of Illinois College of Medicine at Peoria's (UICOMP) vision to further develop state-of-the-art research facilities in Peoria.  The 28,000 SF research center is dedicated to the study of molecular, cellular, and genetic characteristics involved in cancer. 
ENVIRONMENTAL PROTECTION AGENCY - BUILDING 25 LABORATORY CONSOLIDATION
Worked with the EPA to successfully consolidate laboratory space while keeping the laboratories fully functional during this project. Project phasing was closely coordinated to align upgrades to existing systems, temporary conditioning, and start-up of new equipment. Upgrades to the ventilation, exhaust, acid waste neutralization, de-ionized water, domestic water, specialty gas piping, argon tank upgrades, and compressed air systems were completed while maintaining the mission-critical nature of the laboratories.
Leadership Team
bekberg

[at]

F-W.com

(Brandon Ekberg, PE)

- Chemical Engineer / Principal

damsberry

[at]

F-W.com

(Darin Amsberry, PE)

- Director of Process Engineering
 
Learn More About Our Services