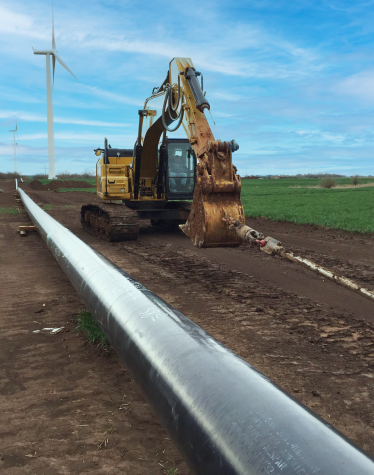 FARNSWORTH GROUP HAS COMBINED ITS FULL-SERVICE CAPABILITIES INTO AN INTEGRATED APPROACH TO MEET THE NEEDS OF THE EVER-EVOLVING ENERGY & UTILITIES MARKETS.
Our experience providing oil and gas, renewables, telecommunications, and subsurface utility engineering services is illustrated by long-standing client relationships. We understand that each client has specific needs and business practices, and we thrive on building long-term relationships to support multiple projects.
From concept through design, construction, commissioning, and project closeout, Farnsworth Group's experienced professional staff provides the full-range of services required to complete projects on tight schedules and budgets. These services include small feasibility studies, management of large-scale construction projects, and everything in between.
Services
Biofuels

Carbon capture pipelines

Controls, instrumentation, and programming

Electrical distribution

Electrical substations

Electrical transmission

EV charging stations

Fiber optic network design and cabling

Integrity management, TIMP/DIMP

Manhole inspection and mapping

MAOP/MOP validation programs

Natural gas compressor stations

Natural gas distribution

Natural gas transmission pipelines

Petroleum marine terminals

Petroleum pipelines

Petroleum pump stations

Petroleum storage

Petroleum truck terminals

Power storage

Renewable natural gas

Solar voltaic farms

Subsurface Utility Engineering (SUE)

Telecommunications

Utility coordination services

Wind farms
/ For more information regarding our energy and utilities services, contact dbonner [at] f-w.com (Doug Bonner, PE.)target="_blank" title="Doug Bonner"
Learn More About Our Services