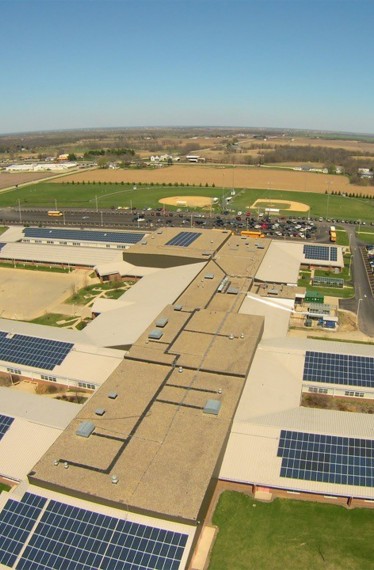 Farnsworth Group worked closely with Farmington, IL, Central School District to develop a rooftop Solar array plan that has resulted in 35-38% energy cost savings. 
Using 2,520 solar panels, the array produces approximately 756 Kw electricity. It is the largest at any K-12 school in Illinois and will help offset an estimated 30 percent of the electrical load for the school.  As energy costs increase, the percentage of savings for the school will also grow, with a jump to 35 to 38 percent expected within the first year.
In addition, solar panels that were installed for parking lot car charging stations are also used for electric vehicles in Driver's Education classes. The District incorporates PV real-time solar reporting data into science, technology, engineering, and math classes for students to analyze and learn about renewable energy, energy use, and conservation.
Teaming with Clean Energy Design Group, Farnsworth Group provided architecture, civil and structural engineering, energy consulting, and grant support for the project.