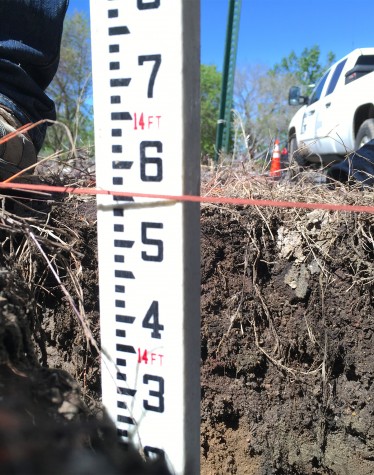 Subsurface Utility Engineering (SUE)
We've only been doing subsurface utility engineering - SUE for short - for 130 years! That's right, we built our business around designing underground utilities in the late 1800s. And a big part of designing new utilities is determining what is already buried in the way, so it's fair to say we're experienced. Whether you know it by this name or not, the Subsurface Utility Engineering (SUE) process is quickly becoming a requirement for more and more public projects across the country. Our in-house survey and civil engineering teams collaborate to provide a variety of SUE services. Farnsworth Group is prequalified to provide SUE services by both the Colorado Department of Transportation (CDOT) and the Illinois Department of Transportation (IDOT). Our staff has been routinely integrating utility information compliant with the American Society of Civil Engineers national standard – CI/ASCE 38-02 guidelines for over 20 years. 
The requirements for Subsurface Utility Engineering vary throughout the country. (Click here to view more information about the requirements in Colorado). Although SUE is not legislated for all projects nationwide, many of our clients find value in utilizing SUE to facilitate a coordinated approach to utility locating that is rooted in identifying conflicts early in the design of a project.  Many project sites and rights-of-way have become crowded with utilities. Our SUE services focus on the quality of underground utility information to reduce associated risks during design and construction.
SERVICES CAN INCLUDE:
State Utility One Call (i.e. 811, JULIE) notification for SUE projects
Coordination with specialized underground utility locating subconsultants
Conflict avoidance analysis
Conflict negotiation and resolution
Utility coordination
Utility relocation design
Review and preparation of right-of-way and easement documents
Subsurface utility locating in accordance Colorado Law SB 18-167 (C.R.S. § 9-1.5-103) requirements
Survey the located utilities
Preparation of existing utility location mapping and drawing for the design engineers to use to complete the preliminary design
Test hole excavation observation
Preparation of pdf and AutoCAD drawings for all located utilities and test hole locations
Providing a report detailing the SUE investigation that is stamped by a licensed engineer
/ If you have questions about these services, please contact rbandy [at] f-w.com (Ryan Bandy, PE). or ddifulvio [at] f-w.com (Dave DiFulvio, PLS).  
Learn More About Our Services