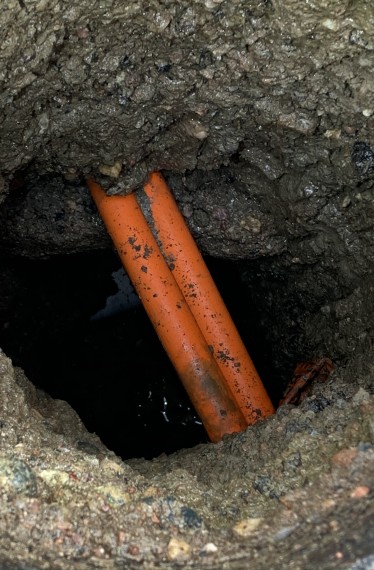 Critical SUE Data for Complex Project
OUR CIVIL ENGINEERING AND SURVEY TEAMS PROVIDED CRITICAL DATA TO COMPLEMENT THE TEAMS AT THE CITY AND COUNTY.
This Traffic Signal Design project had complicated objectives and included the installation of intersection traffic signals to improve safety. CDOT awarded Larimer County a Federal Highway Safety Improvement Program (HSIP) grant to facilitate project construction. Larimer County designed and constructed the signal improvements. The City of Fort Collins will operate and maintain the installed signal.
Farnsworth Group provided the Subsurface Utility Engineering (SUE) services, including the surveying of the locates and test-hole information. A utility investigation was executed in accordance with American Society of Civil Engineers Construction Institute Standard 38-02 (ASCE/CI 68-02), as well as the Colorado Senate Bill 18-167. Initially, during the Pre-Design, we performed the Quality Level B locates and surveyed the locates in the same control network as the base drawings were created. This allowed us to provide a CAD file to the Design Engineer that they could directly incorporate into the base drawing.
Once the Design Engineer prepared the Preliminary Design plans, we worked with them to locate existing utility conflicts with the proposed improvements. We proposed test-holes at the locations where there were conflicts. Kinetic Industry provided the potholing services and our surveyors staked the test-hole locations for the locator to expose. During the test-hole process, our surveyors were on-site to survey in the exposed, existing, underground utilities so that the Design Engineer could evaluate the elevation of the existing utilities and compare to the design elevations of the proposed utilities. Our Civil Engineer was on-site during the test-hole process to help identify the existing utilities that were exposed and to help guide the test-hole contractor to locate additional existing utilities if they were deeper than anticipated.
Our engineering team also observed any conditions that were not anticipated from the locating information and / or were exposed during the test-hole process. This information was then included in the final SUE Report and Plans for the Design Engineer to reference and use to prepare the Final Design Documents.