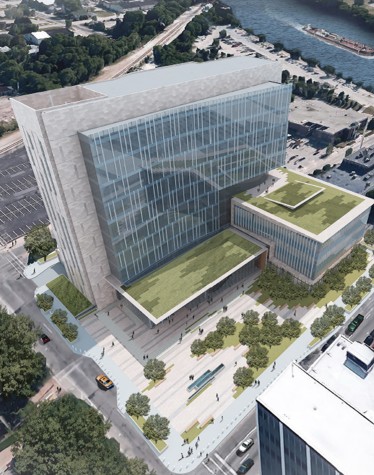 Building Enclosure Commissioning (BECx)
What is Building enclosure commissioning?
BECx is a quality assurance process that focuses on building envelope components, such as: 
Farnsworth Group's BECx services are focused on practical solutions.  We realize that you most likely have an aggressive budget and high performance goals.  
Our expertise is in optimizing the value you achieve with BECx services.
Exterior Walls: Air and Vapor Barriers, Insulation, Through-Wall Flashings, Masonry Ties, Exterior Cladding and Finishes, Sealant Joints, Expansion Joints, and Exterior Attachments

Fenestrations (Openings): Window Flashings, Storefront Windows, Operable Windows, Curtain Wall Window Systems, Doors, and Skylights

Roofing: Roof Decking, Vapor Barriers, Insulation, Roofing Systems and Accessories, Drainage Systems, and Sheet Metal Flashings

Waterproofing: Below-Grade, Plaza Decks, Balconies, Railings, and Planters

Slab on Grade: Vapor Barrier, Penetrations, Reinforcements, and Pre Pour Inspections.
Why Should I Consider It?
You are experiencing building envelope issues and looking for professional support.
You want to better integrate enclosure systems into your on-going maintenance programs.
You have a tight project budget and are concerned about the high cost of fixing enclosure issues during Construction or Warranty Phases.
You want to manage the risk of your building envelope not performing as expected and issues going unnoticed past construction.
You don't have budget for a full-blown commissioning process but recognize the value of BECx and want to better understand the trade-offs in scope to fit your budget.
For new construction, BECx focuses on:
Defining envelope performance goals clearly early in the Design Phase (i.e. durability of materials, warranties, air infiltration, required maintenance, etc)
Working with the project team to discuss challenging enclosure detailing, specifications, and other design components
Developing a Building Envelope Testing Matrix to clearly define budgets and quality assurance
Testing, visual observation, and mock-up reviews to ensure envelope issues are discovered and remedied early to minimize cost & schedule delays
Review of training and maintenance requirements
Warranty Phase review and testing to catch remaining issues before client takes financial responsibility
At Farnsworth Group, we use a Total Building Commissioning approach that incorporates the expertise of our design, construction, and sustainability experts.
For existing buildings, BECx focuses on:
Forensic analysis and troubleshooting of existing issues
Lifecycle costs for envelope upgrade options
Facility condition assessments and capital planning (highlight text to link to Asset Management page)
Review of system integration, new/ existing facility coordination, and facility upgrades.
We are champions of each project, big or small, and strive to represent the best interests of the Owner to ensure their investment and facility requirements are achieved.
/ For more information regarding commissioning, contact mcale [at] f-w.com (Matt Cale, PE, CxA, LEED AP BD+C.)target="_blank" title="Matt Cale"
Learn More About Our Services