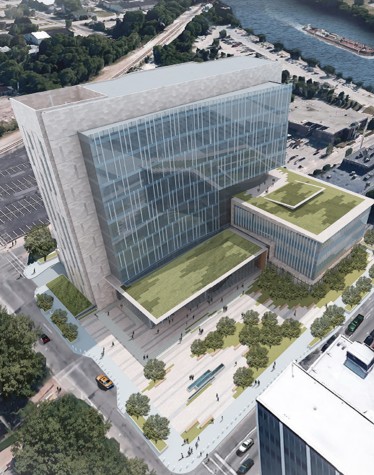 Building Enclosure Commissioning
Be it complex curtain wall systems or basic 3-tab asphalt shingles, Farnsworth Group's building enclosure commissioning (BECx) group understands the intricacies of these systems, and how they interact with one another. We can provide the Owner, Design Team, and the GC/CM the information to make well-educated decisions that will assist in the building meeting the success criteria established.
Farnsworth Group not only uses the key industry standards (ASHRAE, NIBS) in its building enclosure commissioning process, but also ASTM E2947 – "Standard Guide for Building Enclosure Commissioning" and ASTM E2813 - "Standard Practice of Building Enclosure Commissioning."  Adding these ASTM standards to the BECx process, as well as incorporating them into the contract documents, provides definition and clarity of intent for the project team. The standards also allow the design professional and owner flexibility to target specific systems of interest based on the level of risk mitigation desired for the project.
We are champions of each project, big or small, and strive to represent the best interests of the Owner to ensure their investment and facility requirements are achieved.
Building Enclosure Commissioning

Retro Commissioning (reroofing, window replacement, façade replacement)

Building Enclosure Development and Design

Building Enclosure Asset Management

Condition Assessment Surveys

Budgeting and Capital Planning

Building Enclosure Consulting
At Farnsworth Group, we use an integrated commissioning approach that incorporates the expertise of our design, construction, and sustainability experts.
/ For more information regarding commissioning, contact mwolf [at] f-w.com (Mike Wolf, PE, CxA, LEED AP.)
Learn More About Our Services