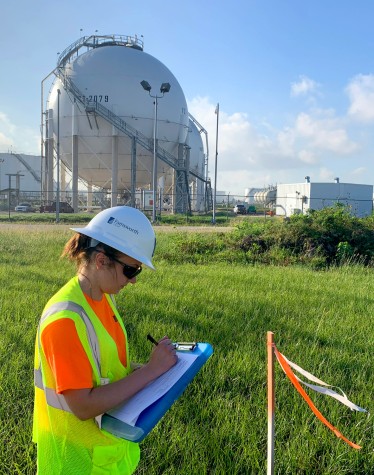 "I really enjoyed the workplace community. Everyone was so eager to help me and show me new projects. It was great to see all different kinds of work in such a short amount of time. I also learned a lot of new programs which I don't learn much of in school."
"

My transition from an intern to a full-time employee was very seamless and I really enjoy working here!

"

We seek exceptional minds poised to make a difference for our communities and create places that last. Embrace the architecture, engineering, and surveying sphere not just as an entry-level or intern hire but as a pivotal player in our narrative of purposeful innovation in a multi-discipline firm. With our "Great Place to Work Certification" earned eight times over, we offer an environment that nurtures growth for those starting their careers. 
You'll be part of a diverse and inclusive environment that encourages curiosity, fosters innovation, and supports your personal and professional development. Beyond honing your skills, you'll witness firsthand how your contributions impact real-world projects and contribute to the legacy of excellence that defines Farnsworth Group. 
Entry Level Opportunities
Whether you are studying Architecture, Engineering, Surveying, or other business support disciplines, we welcome you to come learn more about Farnsworth Group, our opportunities, and our award-winning culture!  Our entry level employees are provided with a complete orientation and onboarding to get you up to speed and integrated into your role quickly.  Your manager and team will work with you closely to develop your set goals, develop your skills, and discuss training, all to ensure you have the resources and tools needed to succeed. 
We like to have some fun too – join us for activities and events in and out of the office to get engrained in our great culture! 
Internships – Take a peek inside Farnsworth Group
As an intern, we provide company orientation with multiple departments to help you get your bearings quickly.  We'll pick your brain on what you hope to learn and gain from the internship to aid in setting goals and expectations.  To maximize your success, you will work with your manager to set goals and expectations for yourself for the summer.  Your manager will meet with you to review your progress and goals, giving feedback to help you grow within your career.  You will work with other employees on your team and throughout the office to get you ingrained in Farnsworth Group, our activities, and culture.  At the end of the internship, you will meet with your manager to review your goals and overall performance. 
Our recent interns reflected on the perfect theme songs for their departments. From soul-stirring melodies to catchy beats, our interns reveal the musical essence that harmoniously captures the unique vibes of their workspaces.
Fall 2023 Career Fair Schedule
9/6/23 - UIUC - CEE, Urbana, IL

9/20/23 - University of Wyoming STEM, Laramie, WY

9/21/23 - Washington University - STL, St. Louis, MO

9/26/23 - Missouri S&T, Rolla, MO

9/27/23 - CU Boulder CEAE, Boulder, CO

9/28/23 - Bradley University, Peoria, IL

10/3/23 - Colorado State University, Fort Collins, CO

10/5/23 - Southern Illinois University - Edwardsville, Edwardsville, IL

10/5/23 - Valparaiso University, Valparaiso, IN

10/25/23 - CU Denver, Denver, CO
Campus Career Fair Attendees
If you saw us at a recent career fair and need to get us a copy of your resume electronically. Congrats - you're in the right place!  Please complete this brief Google Form and attach your resume.  Our recruiters are looking to review all campus career fair resumes shortly after the fair and will be in touch as we compare your qualifications against current and anticipated needs.