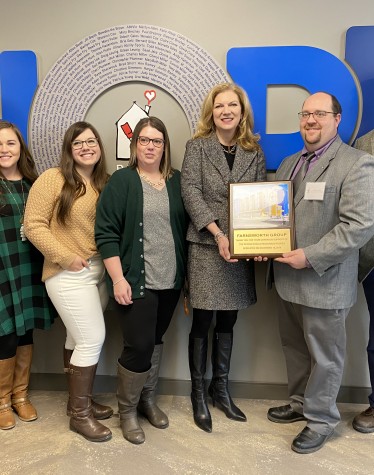 Ronald McDonald House Opens to Welcome Families
The Ronald McDonald House Charities of Central Illinois (RMHCCI) officially opened the doors to its new Peoria House with a ceremony and ribbon cutting. The opening marks the completion of three years of planning and construction on the house,  located at the corner of Spaulding and Monroe Avenue in Peoria, IL.
Farnsworth Group served as the architect/engineer on the project, a four-story building located in the heart of Peoria's medical district. The home offers 22 suites for families of children receiving care at any area hospital. Families can stay at the Ronald McDonald House free of charge, including meals.
In addition, the Peoria House offers an art studio, game rooms and a playhouse, as well as communal areas where families can gather for support. Unique to the building is artwork by local artists located throughout the entire facility.
The second floor is home to "The Dax Wing" and open to pediatric cancer patients that include five mini-suites, a sitting area, laundry room and playroom. The wing is separate from the rest of the facility to allow immune-compromised visitors of the St. Jude Children's Research Hospital a place of their own.
Farnsworth Group's architectural, engineering and interior design teams worked closely with the Ronald McDonald House of Central Illinois, local citizens groups, families who have stayed at Ronald McDonald Houses, and area doctors to ensure the house meets families' needs.
Read more articles on the Ronald McDonald House:
Peoria Ronald McDonald House Opens, Community Celebrates Monumental Facility (WMBD-TV)
Look Inside: Peoria's Newly-Opened Ronald McDonald House (WCBU Radio)
Ronald McDonald House is now Open (WEEK-TV)
Peoria Community Celebrates Opening of Ronald McDonald House ( WHOI-TV)