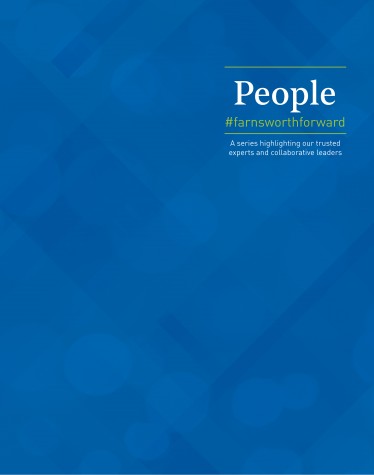 Continuing in our People, Passion, and Performance series, we recently spoke with Vance Jordan, EIT, who serves as an Engineer Associate for our Peoria, IL office.
Quick Facts about VANCE
Outside of work, Vance raises two beautiful daughters and teaches himself how to tailor clothes. Tailoring is his prerequisite to designing fashion.
Vance enjoys watching the Carolina Panthers because he is a Cam Newton fan. To Vance, Cam seems like a guy who likes to dance as much as he does.
Vance's hobbies include reading, video games, and investing in the stock market.
What's great about Farnsworth Group? There is such a reward in helping others and there are many people who have places to live, work, and rest because of the buildings that we have designed. I also think it is great how we are philanthropic at our core.
How has technology influenced your career? Funny story: one of my college professors instructed us on how to make certain calculations for a homework assignment that ended up being quite a lengthy process. I felt like such an accomplished engineering student when I turned in the 8-page homework assignment. When we all turned in our assignments, he grabbed the large stack of papers with a smirk; then he proceeded to show us how to do the same homework assignment using a method that fit on one sheet of paper. We students all collectively sighed. Now that I work in the engineering field, I use software programs that run calculations that save me from long hand calculations.
Talk about a favorite boss or mentor and why you liked them.  Did they have a single quality that you appreciated? I was fortunate to have Ed Barry as a mentor for the year of 2021. I grew and learned so much during his time of mentorship. I admire how Ed genuinely wants to see people do well and is willing to help, both locally and overseas. I also admire my supervisor, Dustin Rhoades. He is the most humble, straight-shooter leader I have ever had. He has the stuff they don't teach in schools.