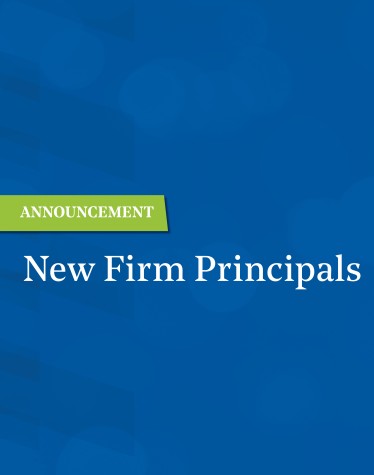 Farnsworth Group Announces New Principals
Farnsworth Group is thrilled to announce the appointment of four exceptional individuals to the position of Principal within our organization.
These individuals embody Farnsworth Group as they have demonstrated a commitment to advancing our mission, representing our core values, enhancing our "people, passion, and performance" identity, and so much more.
Please join us in recognizing Scott Janssen (St. Louis, MO), Amanda Occhi (Colorado Springs, CO), Bob Ridgway (Waukee, IA), and Ryan Uebinger (Champaign, IL) for their accomplishments and leadership in the Company now and in the future.
---
Scott Janssen, PE
Scott joined Farnsworth Group in 2012 and serves as Senior Engineering Manager in the Energy & Utilities Telecom section. He is located in the St. Louis, MO, office. Scott has over 20 years of experience in engineering and management capacities, including Project Engineer and Project Manager. He also helped launch an Employee Development Program in the St. Louis office as a way to build camaraderie and expand personal development. Scott is a licensed Professional Engineer and earned a BS in Civil Engineering from Valparaiso University.
---
Bob Ridgway, AIA, NCARB
Bob is an Architecture Principal and serves as Center Manager for the Waukee, IA, office. Bob joined Farnsworth Group as part of the Company's acquisition of Design Alliance in 2019. He has more than 35 years of experience and involvement in all levels of project execution and management, successfully leading full-service project teams and subconsultants. Through his experience and client skills, Bob has developed and continues to build successful client relationships throughout the Midwest in a variety of markets including education, municipal, and state government markets. He is especially passionate about municipal public service projects that are key to keeping our communities safe. Bob is a licensed professional architect in Iowa, Nebraska, and South Dakota and earned a BS in Architecture from the University of Nebraska. 
---
Amanda Occhi, PE
Amanda joined Farnsworth Group in 2015 and currently serves as Regional Senior Engineering Manager, responsible for the Western region electrical section. She also serves as Center Manager for the Colorado Springs, CO, office and is a member of the Farnsworth Group Board of Directors, elected to her first term in 2022. Upon joining Farnsworth Group, Amanda successfully created unified electrical design standards and built relationships between the Colorado and Midwest electrical offices. She also has been instrumental in expanding Farnsworth Group's healthcare presence in Colorado. She has more than 20 years of experience in healthcare, education, municipal, and hospitality electrical engineering design, as well as peer reviews, master planning, site investigations, facility condition assessments, and construction administration. Amanda earned an MBA from the University of Colorado at Colorado Springs and a BS in Electrical Engineering from Louisiana State University. She is a Professional Engineer and LEED Accredited Professional, BD+C.
---
Ryan Uebinger, PE
Ryan is a Senior Engineering Manager in Farnsworth Group's Transportation group, offering 24 years of transportation engineering experience. He joined Farnsworth Group in 2014 and is located in the Champaign, IL, office, where he leads the Champaign Transportation section. Ryan has been a key contributor to Farnsworth Group's success in the transportation market, serving as a valuable resource and trusted advisor to municipalities throughout Illinois and a leader on transportation projects throughout the state. His experience also includes project management for utility-scale wind energy projects, working with renewable energy companies and local road authorities, providing civil and transportation design solutions to implement and construct projects. Ryan is a licensed Professional Engineer and earned a BS in Civil Engineering from the University of Illinois Urbana-Champaign. He is a member of the American Council of Engineering Companies of Illinois and currently serves on the IDOT and Construction Committees.