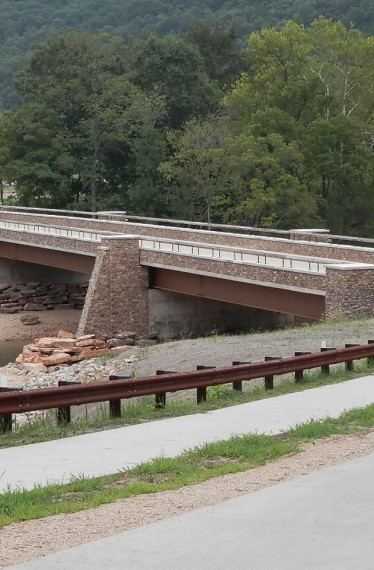 New Bridge over Sinking Creek
Farnsworth Group provided complete engineering services including surveys, floodplain modeling, and preparation of contracts plans, specifications and estimates for this neW 456' bridge at Echo Bluff State Park.
Located on 458 acres in the heart of the unique natural beauty of the Missouri Ozark Mountains, the new Echo Bluff State Park is the complete, quintessential Ozarks destination. Farnsworth Group was selected as the prime A/E firm to carefully transform this beautiful heavily wooded yet rugged land into the State's signature resort. The first new State Park in 80 years serves as a luxury basecamp for those looking for year-round adventure or simply a relaxing introduction to everything the Ozarks has to offer.
Starting from the conceptual design, the bridge design team completed hydraulic modeling and structural design of the bridge in just four months. The superstructure consists of a four-span bridge with four composite web plate girders supporting a concrete deck. The deck width consists of two vehicular lanes and a multi-use lane. The specialty barriers on the deck are TL-3 crashworthy with a decorative thick stone veneer, stone caps and timber railings. The end bents consist of integral abutments supported by steel piles that were pre-bored and cast in rock sockets to obtain the desired longitudinal flexibility required.