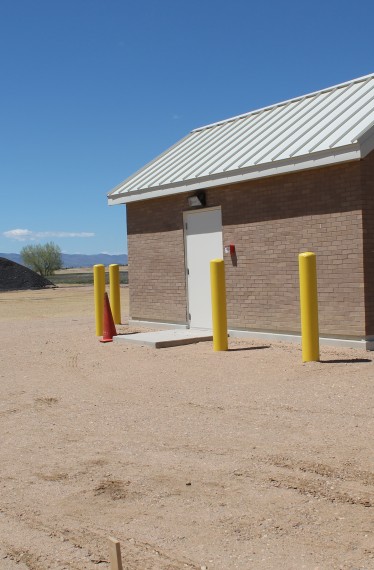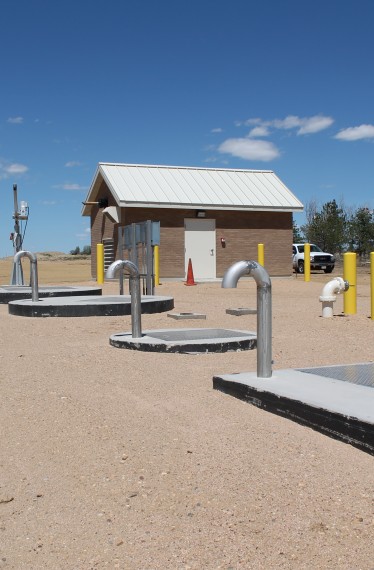 New Lift Station Expands District's Service Area
In 2013, Farnsworth Group conducted a feasibility study to evaluate the potential alternatives for providing service to the Harmony Ridge subdivision which includes 1650 planned residential units and 43 acres of non-residential development. The District decided to implement the solution which required construction of a new lift station within the subdivision and installation of force main and gravity sewer along Weld County Road 13 to the Timnath Reservoir Lift Station.
The lift station consists of an 8-foot diameter, precast concrete wetwell equipped with two 590 GPM variable speed submersible sewage pumps, an 8-foot diameter valve manhole, a 6-foot diameter flow metering manhole, a precast structure to serve as a pig launch, and a small building housing an emergency power generator, electrical equipment, pump controls and an automatic power transfer switch. The pumps discharge into a 10-inch diameter, force main approximately 6,000 feet in length.
The project was designed to ensure all CDPHE requirements were met. Approval of the utility plan update was required by North Front Range Water Quality Planning Association (NFRWQPA)  prior to the preparation, submittal and ultimate approval of the Site Location Application, Process Design Report (PDR) and final design.
Farnsworth Group also provided architecture services including the building design and construction administration.