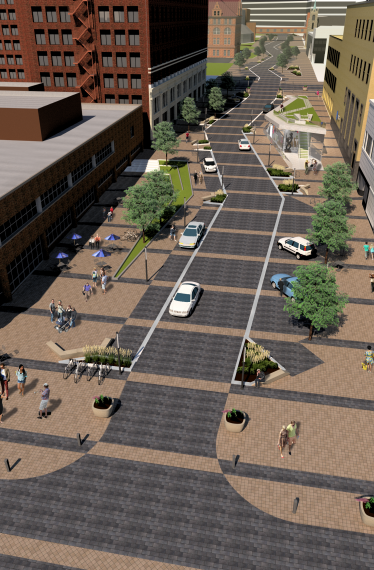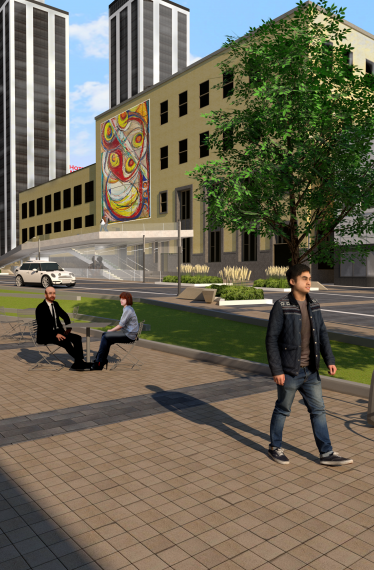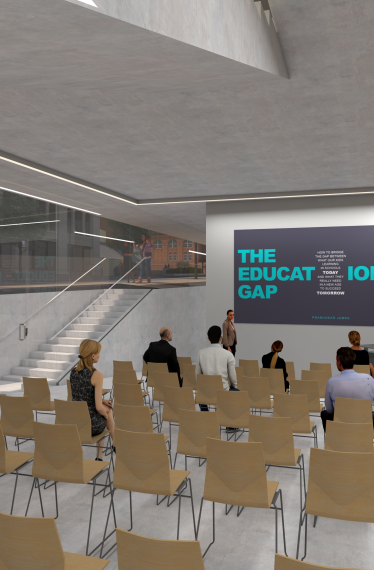 Shared Space for Pedestrians, Cyclists, and Vehicles
Fulton Street historically connected the river to the cultural resources of and surrounding City Hall.  Over the last half century, two schools of thought transformed the function of the 300 block from vehicular-dominant to pedestrian-only.  Our solution is a hybrid, combining the best of both into a shared space for pedestrians, cyclists and vehicles.  To ensure the space is distinctively Peoria, local culture is woven into the design, culminating in a new arts-collaborative building.
Designed akin to a European woonerf, meandering vehicular lanes with street parking, no raised curbs and strategically positioned landscaping, pedestrian-scale lighting and other site amenities appeal to pedestrians and calm traffic.  Permeable pavers – with a pattern matching the museum block – and planters absorb stormwater.  The result is a space for art fairs, buskers, sculpture, al fresco dining and public gatherings.  The overall design is phased; the first would occur on the 300 block and future phases would extend from the river to Kumpf Boulevard.
In addition to the woonerf, two more interventions occur on the 300 block: levelling the grade at the ICC Thomas Building to allow storefront access from Fulton and the "Peoria Underground" building.  The sculptural building is visible from the Civic Center and lower Fulton, creating a visual landmark to connect people between the cultural centers.  Housed under an accessible green roof is a public auditorium/gallery space and back-of-house art studios.  Lastly, digital art projected onto the AT&T building further signals that Fulton Street is a special place, unique to Peoria.