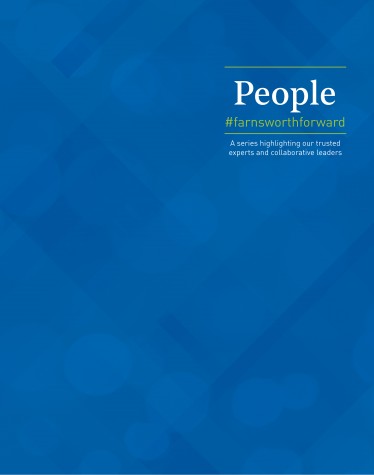 Continuing in our People, Passion, and Performance series, we recently spoke with Megan Beutke, who serves as an Interior Designer from our Peoria, IL office.
Quick Facts about MEGAn
Outside of work, Megan is all about volleyball. She coaches at a local club and plays recreationally every week.
Recent read: Colleen Hoover is her recent favorite author to read.
Megan grew up on a farm in Long Point, IL, which taught her to "do your part and help when you should."
Talk about some of your career milestones or achievements. I am working on completing my NCIDQ certification, and I recently passed my first test to help me be one step closer to completion. One achievement that I am especially proud of was my first lead interior design role on the Quincy Medical Group Cancer Treatment Center and Surgical Center project. I love how it turned out, and it was an awesome learning experience working with Farnsworth Group Architect Ellen Spencer, AIA, NCARB.
Talk about a favorite boss or mentor and why you liked them. Did they have a single quality that you appreciated? Janelle Payne, IIDA, NCIDQ, LEED AP, is my current boss, and she is a great one! When I first started my interior design career, she was very patient with all the questions I would ask, and she would always explain answers in great detail to really make sure I understood. Not only is she insightful, but she is also a lot of fun to be around, easy to talk to, and I know I can go to her for advice on anything!
Talk about your team. My fellow interior designers at Farnsworth Group are an amazing group of people! I am really inspired by Heather MacDonald, IIDA, NCIDQ. She is a very creative designer who pushes the limits to create remarkable spaces.