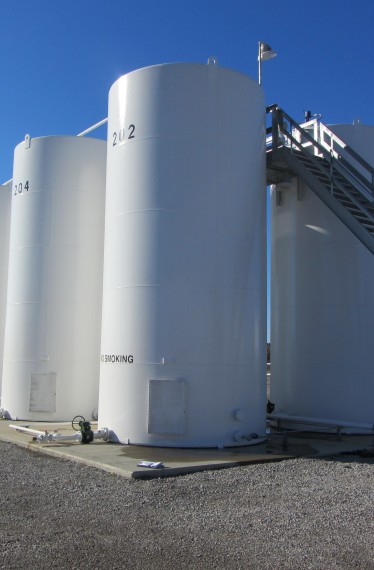 Crude Oil Truck Unload Terminal
Farnsworth Group was contracted by Patoka Terminal Company to provide full service engineering for a new crude oil truck unload terminal in Patoka, IL. The terminal allows for unloading of multiple tanker trucks from surrounding oil fields, full testing and measurement of the oil, then storage and transfer to an existing interstate pipeline located one half mile northeast of the terminal. 
Specifically the terminal allows for the automated collection of up to eight (8) tanker trucks via eight (8) individual automated custody transfer (ACT) units transferring the oil to eight 500 BBL collection tanks at a rate of 350-400 BPH. Total estimated daily delivery is 10,000-14,000 BBL.
From the collection tanks, oil is then pumped via a 10" steel 
transfer pipeline to one of two 70,000 BBL steel storage tanks at an average rate of 1700 BPH. Each storage tank has a 60,000 BBL working capacity with all appropriate gauging and alarms. Each storage tank  has a solid supported cone fixed roof as well as an internal deck pontoon floating roof.   
The contents of the 70,000 BBL storage tanks are then transferred in 60,000 BBL batches via a deep well pump and off site 16" steel pipe to a manifolded connection on an interstate pipeline. The oil passes through on site turbine flow meters and a 16"x 20" prover loop prior to custody transfer. 
The terminal is fully automated with an extensive system of PLCs and motor controlled valves as well as a full array of temperature, pressure and flow sensors, all monitored by an on-site operator. 
An integral part of our services to Patoka Terminal Company included full and detailed bills of material (BOM) to be bid to multiple suppliers and recommendations presented for procurement. In this capacity Farnsworth Group functioned as the material and equipment procurement manager for the project. Furthermore, Farnsworth Group provided comprehensive shop drawing and equipment drawing reviews.
 
The construction of the terminal required extensive coordination with federal agencies including PHMSA, USACE, EPA as well as the Illinois State Fire Marshall. As part of such, Farnsworth Group prepared the required Spill Prevention, Control and Countermeasure Plan (SPCC), the Industrial and Construction Stormwater Pollution Prevention Plans (SWPPP) and the Facility Response Plan (FRP). Farnsworth Group provided all guidance for hydrotesting and weld inspections as well as all functional performance testing, all human interface programming, and all start up and commissioning services.