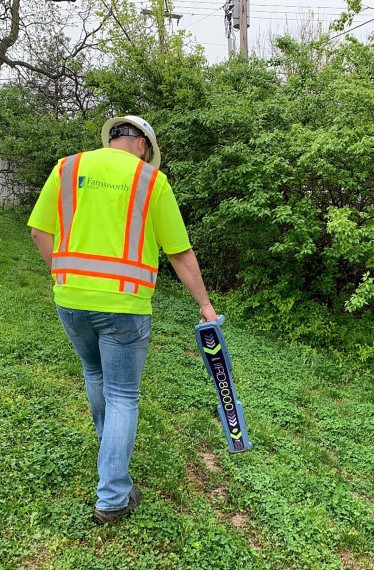 Design Clears Way for Roadway Expansion
Farnsworth Group conducted several tasks for a Global Telecommunications  Company starting with line locating and surveying facilities and utility lines within the construction boundaries. Our engineers created redlines in MicroStation and a conflict table by using the survey data collected.
As a project within the scope of a larger volume bid centralized in the Chicago suburbs, Streamwood was a great project that incorporated a full range of services working through Phases I-III. The project was initiated due to a road expansion project, new sanitary system, and retaining wall.
Phase II work determined whether any utility line conflicts with the road expansion project found during Phase I work were in conflict by exposing the line to know the exact depth of buried utilities. Farnsworth Group oversaw potholing at the questionable conflict locations with an engineer onsite recording utility line elevation and global position with survey equipment. Farnsworth Group engineers also entered five utility manholes and mapped out the cables in the duct packages, with one being a particular challenge because of the size, depth, and water inside the utility manhole.
Phase III of the project consisted of drafting engineering workprints for cable re-routes needed to avoid conflicts determined from the Phase II work.
This project included locating over 1.5 miles of existing telecommunications facilities (both direct bury & duct packages) to SUE Level B and providing preliminary conflict analysis. Through this locating, and negotiations with the roadway engineers, Farnsworth Group was able to minimize the required relocation and save our client over $275,000 in construction costs.