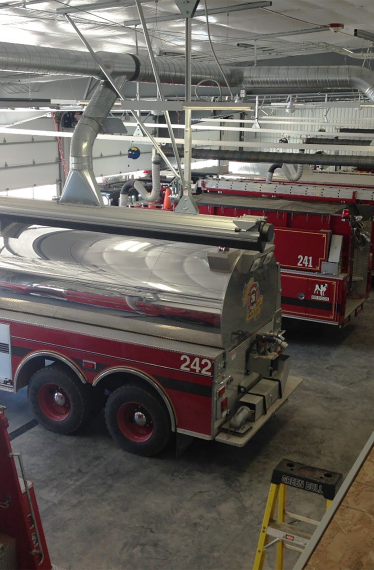 Dual-Function Facility Fills Emergency Service Needs
The City of Fairbury's new fire station and ambulance facility is a unique project in many regards. It is a dual-function building that houses both the volunteer fire department and the Southeast Livingston County Ambulance Station (SELCAS) ambulance facility under one roof. 
It is a pre-engineered steel frame building with a centralized hardened area within the fire station that offers superior storm protection and doubles as storage with a precast plank lid and reinforced concrete masonry walls.
There are six apparatus bays on the south fire department side and the end wall bay is a pull through wash bay. On the north, there is a radio room that has full sight of the apparatus bays. Behind the radio room is a communication window that opens directly to the supervisor's office. Adjacent to the bay is a meeting room with a kitchen. Above these spaces on the north side is a storage mezzanine.
On the SELCAS side, there are three bays, a conference room, and facilities for office support. Internal to this office area, there is a lounge, a kitchen, and two bedrooms that serve on-call staff. 
The community of Fairbury was very involved with this project and used its own forces in the construction at various times.