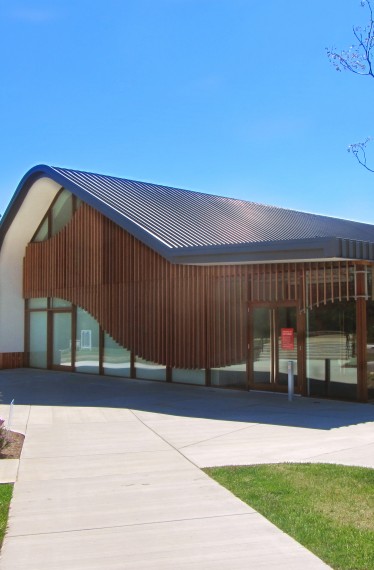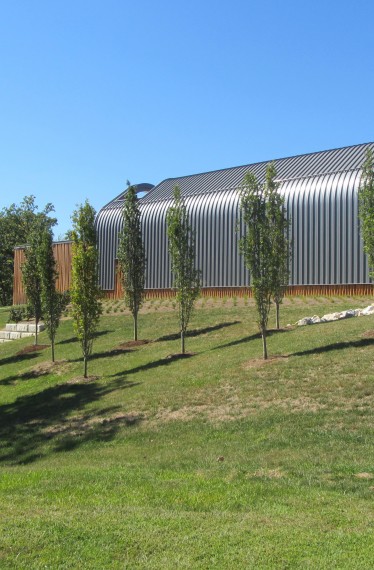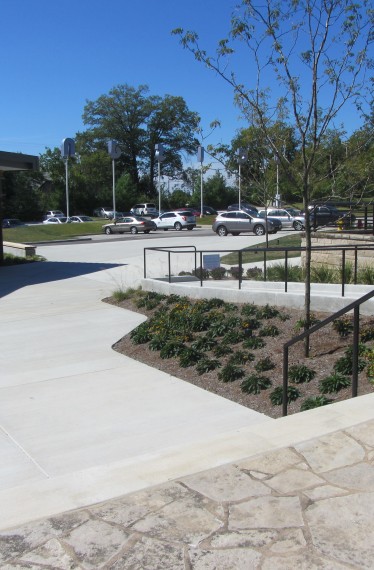 Fine Arts Gallery in Laumeier Sculpture Park
Continuing an on-going relationship with the Laumeier Board of Trustees and the St. Louis County Parks Department, Farnsworth Group provided site design services in support of the project architect, Trivers Associates.  The board commissioned the design team for a 7,500 SF fine arts gallery building.
The new building is perched at the southern end of the parking lot that was completed during the construction of the new entry road.  A new plaza entry was created between the existing estate house and the new gallery to both welcome visitors and funnel them into the park.  This plaza can also be converted into an event space with support from the catering kitchen inside
the new gallery. 
The site was a grading and stormwater management challenge.  The building was placed half on the existing drive and half on the existing 3:1 slope that was constructed during the previous project.  The area behind the new gallery had to then be re-graded to a 3:1 slope and incorporate walls to mitigate the clearing of a larger portion of the existing tree mass.  The grading on the plaza had to be analyzed to maintain ADA cross slopes and connect to both the gallery and the existing estate building without directing the runoff to the end of the plaza.  Farnsworth Group was careful during this process not to create a "muddy mess" where the plaza meets the park lawn.
Other stormwater challenges included stormwater quality and flood protection storage.  The previous projects had already added additional enough run off that any additional work in the park would require flood protection storage.  After multiple iteration using bioretention area for stormwater quality and a dry basin for flood protection storage, the design team suggested removing the existing asphalt parking stalls and installing pervious pavement.  The pervious pavement would reduce the run off enough so that flood protection storage would no longer be required and would be the stormwater quality BMP.  In addition, the costs for the two scenarios were approximately equal but the pervious pavement scenario was a much cleaner look for the park.