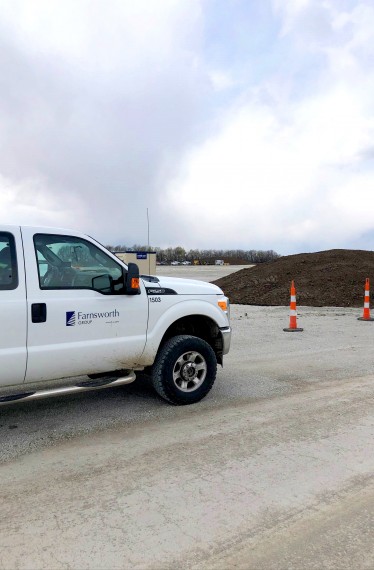 Glacier Sands Wind Project
Farnsworth Group provided engineering and surveying services for Glacier Sands Wind Project in Mason County, IL, consisting of 43 turbines with 18 miles of County and Township Roadway improvements.  
The wind project covers an area of approximately 40 square miles and is comprised of 129 individual parcels of land. The survey work also included a project substation site, Point of Interconnect site, laydown yard, and O&M building.
Surveying services for the Glacier Sands Wind Project included:
Project site exhibits for zoning board meetings, conditional use permit meetings, and Logan County Board meetings
Road Use Agreement support
Title commitment review
Section corner locations
Plotting of parcels
Online interactive project map with live links to project documents
Lease exhibits
Easement exhibits and descriptions for transmission line
Staking of preliminary access roads and turbine layout for soil borings and archaeological studies
Pre-Construction ALTA Survey
Roadway right-of-way exhibits and legal descriptions
Construction staking of all public turning radii, private access roads, turbines, collection line road crossings, transmission line towers, and sub-station and point of interconnect control points
Locating disturbed areas/crop damage after construction
Existing utility crossing list for utility agreements
Exhibits and legal descriptions for ComEd tower line crossing easements
Final ALTA survey