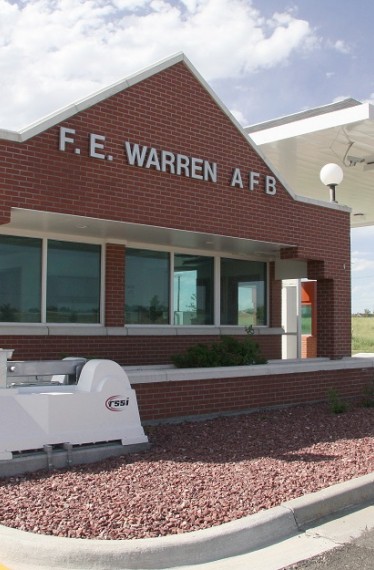 Improving Gate Security at F.E. Warren AFB
Facility improvements designed after charrette process with users and stakeholders.
As a subconsultant, Farnsworth Group provided civil, mechanical and electrical design services under an IDIQ task order for the renovation of the existing Gate 2 entry control facility. Improvements to the facility included adding ID check stations/guard booths, traffic calming islands, additional entry lanes, speed tables, final denial barriers, barrier gates, barrier curbs, landscape barriers, water and electrical utility services, and HVAC improvements in the guard house.
Anti-terrorism / force protection (AT/FP) measures complying with current standards and criteria were incorporated, including civil design of active and passive barrier systems. Similarly, a final denial barrier was designed and installed several hundred feet beyond the ID check station along with a traffic signal system based on a threat analysis. Site design services also included transportation engineering, site layout, grading and drainage, and water distribution service.
Electrical design included utilities for supporting the new HVAC system, ID check stations and barrier gates. Mechanical design was provided for the guard house HVAC system as well as domestic water service plumbing design.