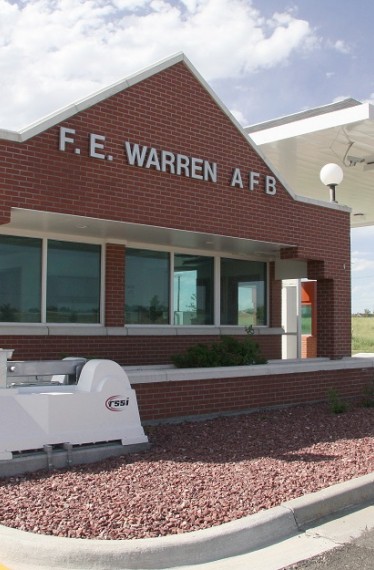 Improving Gate Security at F.E. Warren AFB
As a subconsultant, Farnsworth Group provided civil, mechanical and electrical design services under an IDIQ task order for the renovation and reconstruction of the existing Gate 2 entry control facility on the south side of F.E. Warren Air Force Base along Missile Drive. Improvements to the facility included adding ID check stations/guard booths, traffic calming islands, additional entry lanes, speed tables, final denial barriers, barrier gates, barrier curbs, landscape barriers, water and electrical utility services, and HVAC improvements in the guard house.
Anti-terrorism / force protection (AT/FP) measures complying with current standards and criteria were incorporated, including civil design of active and passive barrier systems. Three electric drop-beam barrier gates were designed and installed at the three incoming traffic lanes at the main booth.  Two electric drop-beam barrier gates were designed and installed at the two outgoing traffic lanes.  Two 30-foot long cantilever sliding gates were designed and installed along Missile Drive near the base boundary line and entrance to Gate 2.  Similarly, a final denial barrier was designed and installed along Missile Drive several hundred feet beyond the ID check station along with a traffic signal system based on a threat analysis.
Site design services also included transportation engineering, site layout, grading and drainage, and water distribution service.
Electrical design included utilities for supporting the new HVAC system, ID check stations and barrier gates. Mechanical design was provided for the guard house HVAC system as well as domestic water service plumbing design.
The project required a design charrette process with F.E. Warren AFB users and stakeholders to present planning concepts and receive valuable input and comments before moving forward with design documents.  Site visits, surveys, inspections and condition assessments were performed to obtain field data of existing conditions for determining site, utility, and interior building infrastructure constraints, which were used to assist in the design retrofit process.  The project ultimately was designed and built to cost based on DD Form 1391 programming and planning documents.
Value Provided to the Government
New ID check stations and islands provided needed safety for security personnel, including protection from harsh Wyoming weather.
Retrofitted site improvements to conform to current UFC and AT/FP criteria within the constrained site conditions.
Incorporated a new HVAC system within the existing guard house to meet current codes and provide energy efficiency.