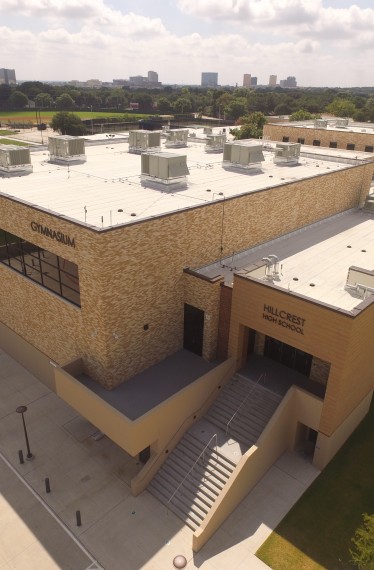 Independent Third-Party Review of Tornado Shelter
THE HILLCREST HIGH SCHOOL PROJECT UTILIZED A TWO-STORY GYMNASIUM ADDITION TO SERVE AS A TORNADO SHELTER. TO MEET CODE REQUIREMENTS OF THE INTERNATIONAL CODE COUNCIL (ICC 500) FOR AN INDEPENDENT THIRD-PARTY PEER REVIEW, FARNSWORTH GROUP PROVIDED REVIEWS.
Our team was involved in the structural engineering, mechanical, electrical and plumbing (MEP) engineering and architectural design analysis and verification for the shelter. Some of the items reviewed included means of ingress and egress, fire safety, emergency backup power for lighting and ventilation, and structural design criteria and impact resistance.
Project duties included coordinating the review process, meeting project schedule, contract administration and overseeing the coordination between DISD staff, project designers, and the City of Dallas. 
This project was executed under a contract Farnsworth Group holds with Dallas Independent School District (DISD) to provide a variety of engineering, land surveying, sustainable design services and commissioning services. Other project task orders under this contract include the commissioning of the Hillcrest High School expansion and ICC 500 peer reviews of storm shelters at multiple DISD facilities.