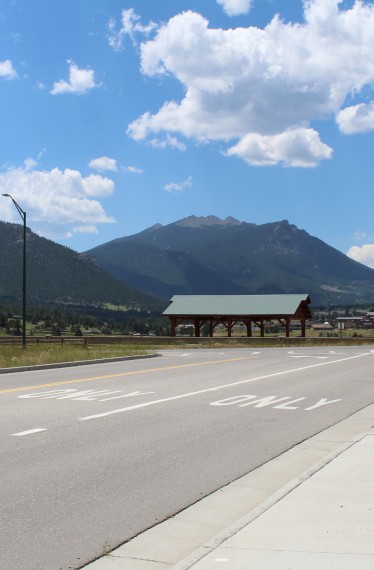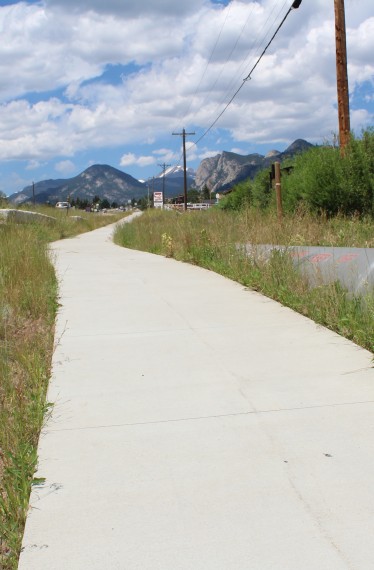 Road, Drainage and Pedestrian Improvements
Farnsworth Group designed drainage appurtenances, such as curb and gutter and storm sewer inlets, for Dry Gulch Road. 
Dry Gulch Road is the eastern boundary between Estes Park and Larimer County. Dry Gulch Road was experiencing drainage problems along with deteriorating asphalt pavement and did not have any pedestrian access. Runoff from Dry Gulch Road is conveyed from the west to the east through a series of culverts that cross Dry Gulch Road. In some portions of Dry Gulch Road, a roadside ditch existed to convey runoff to these culverts. The Town of Estes Park wanted Dry Gulch to meet Town Standards and include bike lanes and a sidewalk.
We used retaining walls to allow for the addition of an eight-foot attached sidewalk. We also re-designed the intersection of Dry Gulch Road with Highway 34 so that it was safer and created parking for the corner business. These features better capture runoff and convey it to the inlets so that the street may continue to allow traffic, even during storms. Sidewalk construction allows better access and safety for pedestrians.
The Dry Gulch is a delineated floodway, and therefore, we had to prove via floodplain analysis that "no rise" would occur due to the proposed construction. In order to determine the storm event flows, we performed a Drainage Master Plan, using EPA SWMM, for the Dry Gulch Basin, which is approximately 6.25 square miles. This also allowed us to size all of the stormwater appurtenances.
We used HEC-RAS to show that the proposed improvements would cause "no rise" within the delineated floodway. The floodplain analysis was also critical because Estes Park is constructing a trail that will cross Highway 34 underneath the existing bridge and connect to the existing Estes Lake Trail.