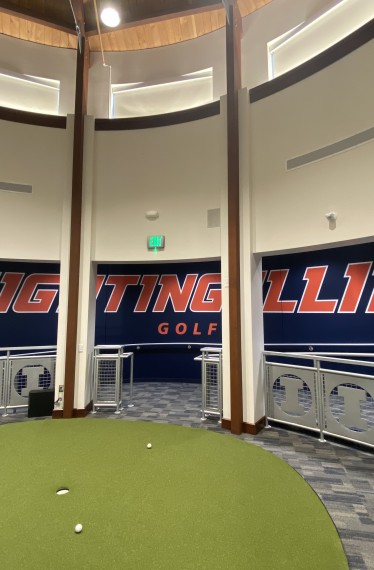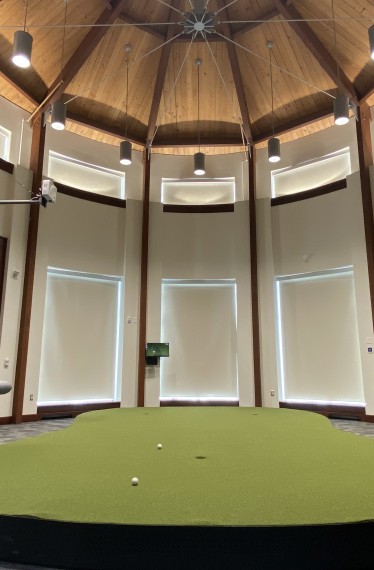 Indoor Golf Practice Facility Allows Players to Practice Year Round
The Demirjian Indoor Golf Facility is a premier practice facility for indoor collegiate-level golf practice utilized by the University of Illinois' men's and women's golf teams for nearly the entire year. The existing building features six indoor hitting bays with large overhead doors that open onto an outdoor golf course. The facility also has an indoor chipping and putting practice area along with meeting spaces and locker rooms for the teams. The building is situated within a golf course and utilizes a modern architectural approach similar to the nearby barns owned by the University.
The expansion consists of an addition to the south side of the existing facility. It includes a lounge/putting studio that is positioned off the southernmost existing indoor hitting bay, which mimics the existing round-shaped lounge near the main entry into the facility. Three new indoor hitting bays are carefully positioned directly south of the new lounge/putting studio in such a way that they face the existing fairways while also running parallel with the adjacent Wright Street. The addition features exterior walls that have gentle curves that are situated to take advantage of the golf course terrain. Also included in the project scope was the renovation of the last existing hitting bay, which was converted into a putting studio. The addition and renovation integrate cutting-edge technology for golf simulation with the architecture intended to match the existing aesthetic.