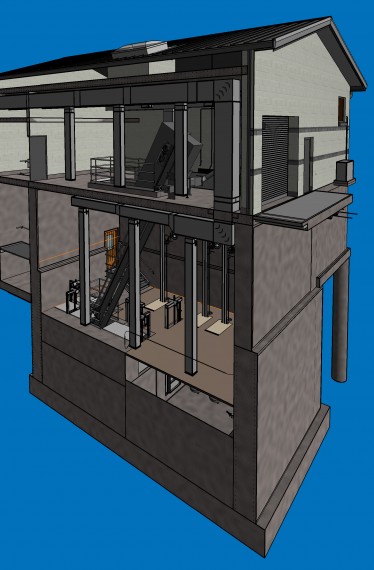 Wastewater Treatment Plant Upgrades Ensure Community Health
The City of La Junta's municipal wastewater treatment plant (WWTP) was oversized, aging, and in need of a significant upgrade.  Several critical components of the WWTP were over 84 years old, and the newest were over 27 years old.  Serious equipment and structural failures in recent years emphasized the need to replace or upgrade the WWTP.  In addition, new effluent limits were enacted by the Colorado Department of Public Health and Environment that the existing WWTP is not capable of meeting in its present configuration the new limits were slated to be implemented at the WWTP in the next discharge permit cycle. 
Farnsworth Group worked with the City to understand the community's reduced flow and loading requirements.  Once our team understood what was required, we identified what, if any, of the existing systems could be improved and reused. The final design incorporates new process equipment for the treatment plant and will reuse existing basins and equipment for biosolids handling.
Improvements include:
New influent pump station with influent screen, submersible pumps and force main valving and piping.
Grit collector, grit pump and grit dewatering screw housed in a new grit building
A three channel "Orbal" oxidation ditch proividng 1.2 million gallons of aeration volume
Two, 55-foot diameter by 14-foot side water depth final clarifiers
A new Return Activited Sludge Building housing return activated sludge pumps, a standby emergency power generator, a chemical storage tank and metering pumps for future phosphorus remove, and electrical controls
Disinfection using ultraviolet light
One 20-foot diameter waste sludge gravity thickener
An existing Aeration Basin will be converted into two sludge holding tanks and a third sludge holding tank will be constructed
The existing Control building will be remodeled and reused
Our team pursued a water quality Discharger Specific Variance (DSV) for selenium standard. The new discharge permit established a limit for selenium, a common mineral found in soil and water.  It is difficult to remove selenium in an activated sludge treatment plant and therefore the variance was requested from the Colorado Department of Public Health and Environment (CDPHE).  A DSV is a new process with the CDPHE which required close communication and collaboration to study treatment alternatives and the variance process, which was established by the EPA. Ultimately a variance was granted which allowed the design of the proposed improvements to be approved.  This variance is one of only four others that have been granted.