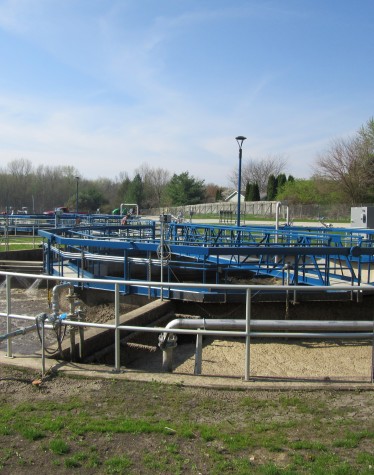 ACEC-IL Honors Mahomet Wastewater Treatment Plant
The Village of Mahomet, IL, and Farnsworth Group, a national full-service engineering and architecture firm, were honored by the American Council of Engineering Companies – Illinois Chapter (ACEC-IL) with a Special Achievement Award in the Engineering Excellence category for its engineering design on the Mahomet Wastewater Treatment Plant expansion project.
Due to the Village's rapid growth over the past decade, the Mahomet Treatment Plant received influent flows in excess of its design capacity. In order to allow for continued population growth, the Village undertook expansion of its treatment plant. The designed solution was the conversion of existing activated sludge tankage to a Biological Nutrient Removal (BNR) facility that utilizes Integrated Fixed Film Activated Sludge (IFAS) technology. By utilizing advanced BNR processes coupled with IFAS technology, the plant is able to achieve all treatment goals without the construction of new aeration tanks.
"We are very happy that the Village was able to work cooperatively with Farnsworth Group to find a less costly solution to this issue," Village Administrator Patrick Brown said. "Our taxpayers are well-served to realize cost savings associated with re-using existing aeration tanks."
Each year ACEC-IL holds its Engineering Excellence Awards Competition recognizing projects of engineering achievement by Illinois engineering firms. Entries are judged on the basis of engineering excellence, the degree to which the client's needs are met, and the benefits to the public welfare and private practice of engineering.