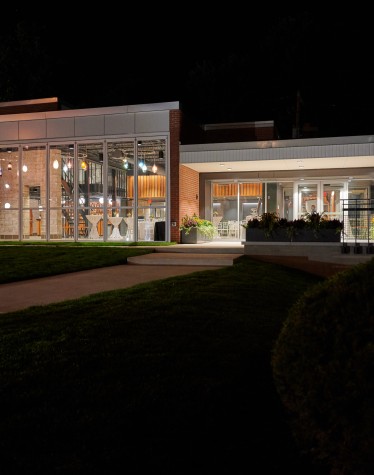 The Betty Jayne, a 'Modernist jewel,' gets Architectural Recognition
The Betty Jayne Brimmer Center for the Performing Arts in Peoria Heights, IL, has garnered a commendation for its architecture, as envisioned and drawn up by the national architecture and engineering firm, Farnsworth Group.
Purchased in 2018 by entrepreneur and philanthropist Kim Blickenstaff, the former Peoria Heights Public Library went through a redesign and rebuild the following year. It was the first of Blickenstaff's many developments in central Illinois, and he named it in honor of his mother, a dancer during the Big Band era.
Blickenstaff became a fan of the building's original architect, Richard Doyle of Peoria Heights, known primarily for his work on two iconic central Illinois structures – Tower Park in Peoria Heights, and the former Robertson Memorial Field House on the campus of Bradley University in Peoria, IL.
The central Illinois-born, California-based Blickenstaff wanted the fundamental integrity and feel of the building preserved – you'd still know it was a Doyle – while imbuing it with a whole new purpose, as a performing arts center.
From the perspective of the American Institute of Architects, Prairie Illinois chapter, it was mission accomplished.
What we've done there is an example of adaptive reuse. We don't have to tear everything down. These wonderful buildings have a lot of life left in them, and they tell a unique story about their communities and the time periods in which they were created. 
The Betty Jayne "represents one of Doyle's most sophisticated architectural achievements," AIA wrote in its recognition. "Its carefully orchestrated ensemble of horizontal earth-hugging volumes, large expanses of glazing (including clerestories), and exposed steel elements (including a floating stairway) are all hallmarks of Modernist design. Yet its relatively modest overall size of 6,500 square feet, distributed across a main floor, a mezzanine, and a lower level, gives the library a true 'pavilion' or jewel-like quality. As such, it is probably the only such civic edifice of its kind in downstate Illinois."        
Farnsworth, in its submission, noted that "the origins of Modernism are centrally influenced by mass industrialization, deriving beauty from pure function above decoration. Richard Doyle's training as both an architect and structural engineer gave him the perfect tools to create modern architecture."
A self-confessed "architecture geek," Blickenstaff said he was unfamiliar with Doyle's work until happening upon it in Peoria Heights, where the latter once lived and where his style continues to make its mark.  
"I just love his stuff," he said. "The building had been empty for awhile. We thought we could add some modern touches while retaining the history and essential character of the place. I'm just really pleased with how it turned out, and with the role the Betty Jayne is playing to enliven entertainment and the arts in the Heights."