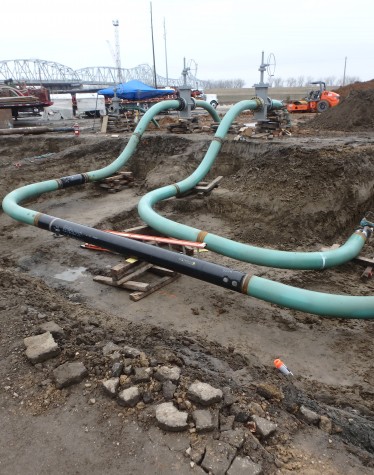 Farnsworth Group Wins 2018 ACEC Colorado Honor Award
Denver, CO...The American Council of Engineering Companies-Colorado awarded Farnsworth Group an Honor Award for the relocation of a complex triad of pipelines that would ultimately traverse a major river, two levees and a railroad.
In late 2015 and 2016, the Missouri Department of Transportation used explosives to bring down, piece by piece, two aging bridges over the Missouri River.
Two refined products pipelines and a natural gas liquids (NGL) pipeline were suspended from one of the bridges requiring Farnsworth Group to formulate a plan to keep these critical pipelines in service during and after construction of the new bridge and demolition of the old ones. This eventually led to the design of three horizontally directionally drilled river crossings, the relocation option ultimately settled upon.
From the beginning, the design process faced complex challenges. The bridges were in a congested metropolitan area leaving little room for construction or staging. The land ownership equation was complex, requiring intensive survey and research efforts to establish relevant property lines and easement boundaries. The drills would have to cross not only under the river itself, but also two levees and a pair of operational railroad tracks. Approvals would be required from the Missouri Department of Transportation, and Kansas Department of Transportation, the United States Army Corps of Engineers (USACE), the Fairfax Drainage District, the Riverside-Quindaro Bend Levee District, and Union Pacific Railroad.
Farnsworth Group worked closely with its client to select a route and acquire new right of way. Farnsworth Group handled all survey needs and supported the client's land personnel with exhibits, plats, and easement descriptions. The new river crossings were designed and installed. Each of the three pipelines required a 2400 foot-long drill. At their deepest, the pipelines reached a depth of 40 feet beneath the riverbed. 
In addition to the three horizontal directional drills, the final design also included two up-and-over pipeline crossings of one of the levees and a pair of auger-bored pipeline crossings under the railroad tracks. Because of space constraints, the bore receiving pit had to be dug into the actual embankment of one of the levees.
Farnsworth Group created the permitting packages and provided construction and boundary staking and horizontal directional drilling (HDD) field engineering. Two field engineers were required to be on-site to accommodate the 24-hour drilling schedule. When the old bridges were demolished, Farnsworth Group performed calculations to ensure that impact loading from the falling bridge segments would not damage the pipelines in the ground below.
The commemorative ACEC video is available below.