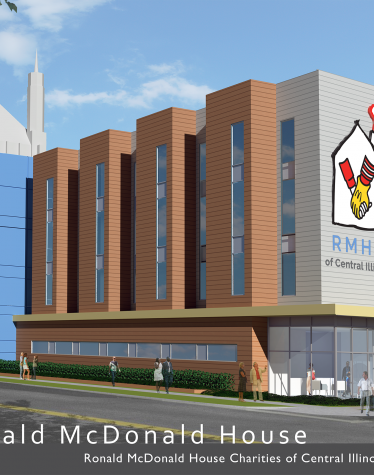 Farnsworth Group Named Design Team for New Ronald McDonald House
Ronald McDonald House Charities of Central Illinois (RMHCCI) is coming to Peoria, IL, and is excited to announce its plans to build a $7 million, 22-bedroom Ronald McDonald House (RMH) in the heart of the Peoria medical district. Farnsworth Group is serving as the Architect/Engineer on the project.
The new 40,000 SF RMH will serve more than 700 families annually and provide hundreds of volunteer opportunities. A 25-person committee has been meeting monthly for the past year to plan the effort.
"The new Peoria Ronald McDonald House will continue to build and expand Peoria's growing medical district services," stated Peoria Mayor Jim Ardis. "Not only will it be good for Peoria and our economic development, but it will also help families save precious dollars and keep them close to their children during a very stressful time in their lives."
The group held multiple community and business stakeholder meetings with input from over 40 individuals and organizations represented, including the OSF HealthCare Children's Hospital of Illinois, UnityPoint Health and the St. Jude Midwest Affiliate.
"I'm thrilled to have the new Peoria Ronald McDonald House coming to my district. This House fulfills an essential community need by providing families a place to stay free of charge while caring for their critically ill child," stated First District Councilwoman Denise Moore.
The new House will be a 4.5 story building and program space will include a community room, game room, arts and crafts room, kitchen, playgrounds, family and living room, and 22 bedrooms to start.
"As a major regional medical center, especially with the OSF Children's Hospital of Illinois, it's important to have facilities that ensure all families are able to get the care they need here," said State Senator Chuck Weaver (R-Peoria). "This new Ronald McDonald House will be an asset to the local community and the families of Central Illinois."