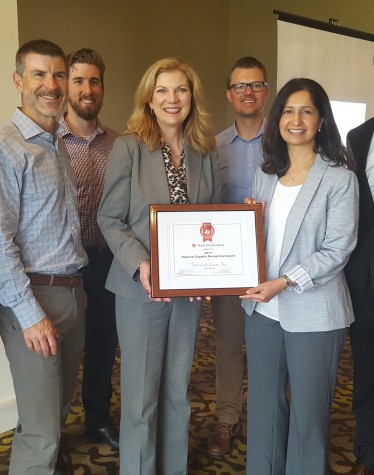 Process Piping Team Recognized by Texas Instruments
Farnsworth Group has been recognized by Texas Instruments as a winner of its 2017 Texas Instruments Regional Supplier Recognition Award for U.S. and Mexico.
Farnsworth Group was chosen for the award from more than 11,000 suppliers.
In the award letter, Rob Simpson, Vice President, Worldwide Procurement and Logistics said, "To achieve this honor, Farnsworth Group, Inc. demonstrated throughout 2017 its commitment to the highest level of ethical behavior, as well as exceptional performance in the areas of cost, environmental and social responsibility, technology, responsiveness, assurance of supply and quality."
Texas Instruments recognized Farnsworth Group leadership at an awards luncheon recently held in Dallas, TX.
"What a tremendous honor it is for Farnsworth Group to be recognized as an exceptional supplier to Texas Instruments," said Farnsworth Group President & CEO Karen Jensen.  "We are extremely proud of the effective and collaborative relationship that has developed between Texas Instruments and Farnsworth Group.  Texas Instruments is one of the most recognized companies in the world, and we are proud to be a partner with them in their success."
As a global semiconductor design and manufacturing company, Texas Instruments produces the industry's broadest and most diverse portfolio of analog and embedded processing products, which are used by the world's most innovative companies.