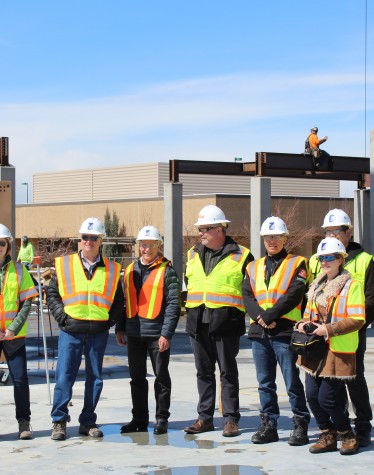 Farnsworth Group Earns Top Safety Award
The Security Insurance Company awarded Farnsworth Group the prestigious Dale Sabers Excellence in Safety Award in recognition of the Company's exemplary safety performance.
The award is a recognition given annually to members who participated in Security's captive for two full years and demonstrates safety excellence through practice and performance. This year marked Farnsworth Group's first year of eligibility and is a significant accomplishment to earn the award during the initial eligibility period.
"Nothing is more important than the safety of our employees, and those that we work with and around every day," said Farnsworth Group President & CEO Karen Jensen. "This award is affirmation of the Company's commitment to safety and the priority that is placed on our safety program. While these awards are an opportunity for recognition and validation, we are forever vigilant and proactive in ensuring the safety of our employees."
Safety practice and performance measures evaluated included: OHSA metrics and workers compensation claim results being below applicable industry averages; participation in the captive group events (i.e., trainings, webinars, and workshops); and results of a thorough Gap Analysis performed by the captive safety consultants.  The Gap Analysis included a comprehensive review of Farnsworth Group records and programs such as trend analysis tracking of incidents and near-misses; completion of Job Hazard Analysis/Job Safety Analysis (JHAs/JSAs); safety committee establishment and participation; accident/incident reporting, incident investigations, and implementation of corrective measures; new employee safety orientation training/criteria; and OSHA compliance training.
Read more about Farnsworth Group's focus on Safety here.