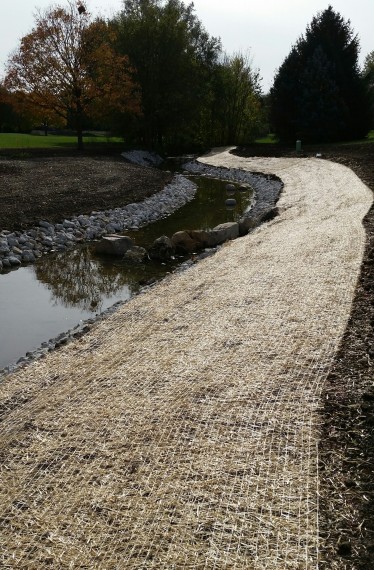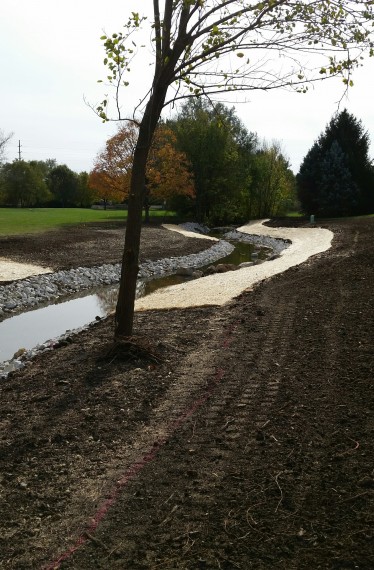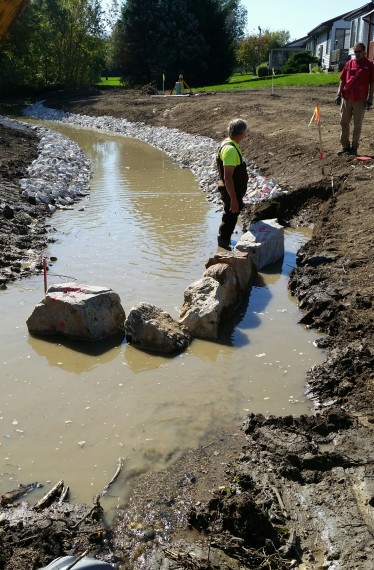 Bank Stabilization Protects Neighborhood
Farnsworth Group was approached by the City of Champaign to stabilize an eroding bank on the Copper Slough. The stream was eating into the bank, threatening a house, deck and underground utilities.  
Farnsworth Group completed a topographic survey of the stream and vicinity and performed a visual stream assessment. A stable cross-section was designed that incorporates a small bankfull bench. The bench provides a floodplain for the stream to utilize during large rain events. The water rises, widens over the floodplain and reduces potentially erosive velocities.
The design also features shifting the stream alignment slightly away from the house in order to regain lost bank. To specifically protect the bank, a J-hook structure was installed in the channel. The structure was constructed out of sizeable boulders and forces large flows in the Copper Slough to cascade over the boulders, away from the bank and into the center of the channel. This structure will prevent future erosion on the sensitive bank. Native plantings across the whole disturbed reach will stabilize the channel and banks while providing habitat and aesthetic value.  
Farnsworth Group prepared construction documents and a cost estimate for the project and provided construction oversight assistance to the City of Champaign during the Fall 2017 construction schedule.