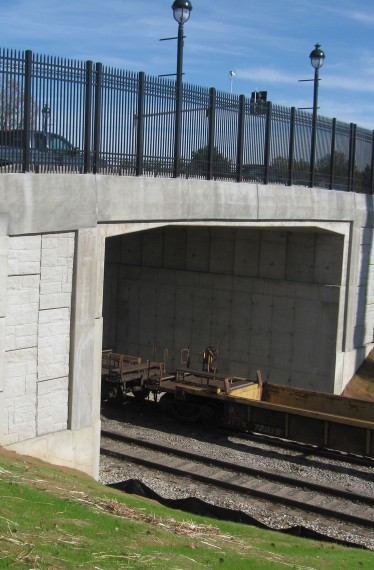 Bridge Replacement Allows For More Clearance
Farnsworth Group was chosen to provide engineering services for a new replacement bridge.
Originally constructed in 1930, the existing concrete bridge over the BNSF Railway tracks had deteriorated to become structurally insufficient as well as deficient in vertical clearance over the tracks. As a vital connector between the City of Webster Groves and Interstate Highway 44, the City took action to secure federal matching funds through the Bridge Replacement and Rehabilitation (BRM) program administered by the Missouri Department of Transportation (MoDOT).  
The project location for the new bridge was tightly confined to the south by the I-44 westbound on-ramp and to the north by Frisco Avenue and a large building. Compounding these horizontal constraints was the requirement by BNSF and MoDOT to increase the clearance to at least 22'-0" from the existing 20'-10". Together these constraints challenged the design team to find a unique solution that was not only cost effective, but also minimized the shutdown time.
Through a series of meetings with the City of Webster Groves, MoDOT and BNSF, the design team gained consensus for the use of precast concrete, flat-top, 3-sided bridge sections. These precast sections allowed for the thinnest bridge deck to maximize vertical clearance. Considerable time was spent developing the appropriate crest and sag vertical curves road profile over the bridge while at the same time minimizing the impact to surrounding roads. Working with BNSF, design variances were granted for both horizontal and vertical clearance from their rails to help make this project possible.