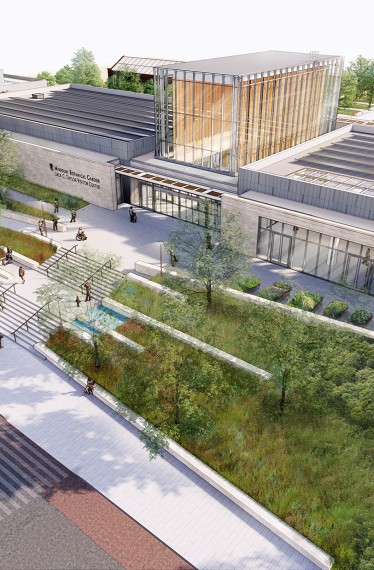 Introducing the Transformed Missouri Botanical Garden's Jack C. Taylor Visitor Center
Step into a world of sustainability and architectural innovation with the newly transformed Jack C. Taylor Visitor Center at the Missouri Botanical Garden. Farnsworth Group provided fundamental, enhanced, and enclosure commissioning services for a significant expansion and renovation at the Missouri Botanical Garden. The Jack C. Taylor Visitor Center was constructed in three phases and is pursuing LEED v4 Gold certification. The project includes numerous green design strategies, such as a 450-kW solar array and an on-site rainwater collection and treatment system.
The center has a revamped main lobby and a new conservatory to house a permanent collection of Mediterranean plants. Enhanced dining options include a grab-and-go location and a serene sit-down cafe with breathtaking garden views. A significant function space expands the garden's ability to serve the community, welcoming visitors and serving as the host site for private films, events, conferences, and educational sessions year-round.
The project's central architectural feature, "The Lantern," epitomizes architectural ingenuity. Its automated windows intuitively respond to St. Louis' ever-changing weather, optimizing HVAC energy efficiency to create an ideal indoor environment.
Commissioning has ensured the highest performance and safety standards across systems, including HVAC, controls, snow melt, plumbing, electrical, solar photovoltaic, life safety, security, fire alarm and protection, interior and exterior lighting, IT infrastructure, and building enclosure.
Explore the transformed Missouri Botanical Garden's Jack C. Taylor Visitor Center—a harmonious blend of nature, sustainability, and community. Witness the results of our collective commitment to creating a greener, more inviting world.