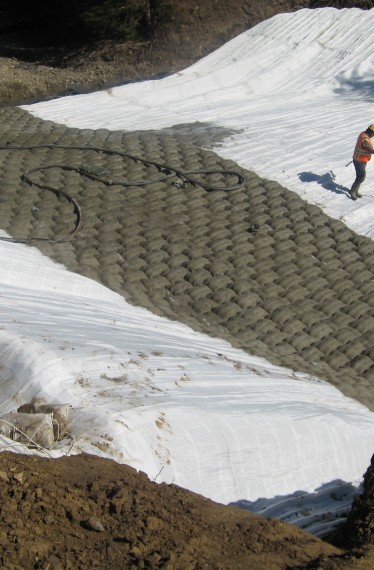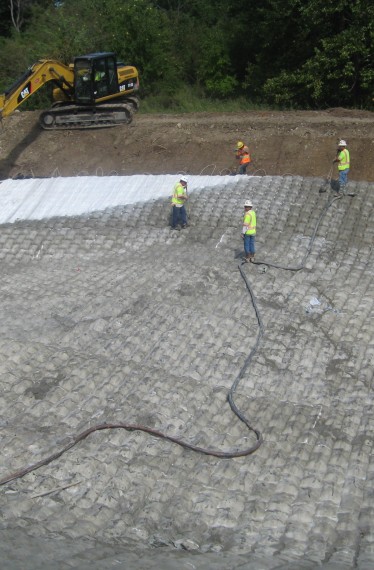 Non-Invasive Response to Rush Creek Pipeline Exposure
Farnsworth Group was selected to address a pipeline exposure in a large creek.  The exposure was in a remote, difficult-to-access location which, coupled with the large diameter of the pipeline (26"), made replacement of the crossing an unattractive option.  Ultimately the project team offered a non-invasive method of protecting the pipeline and stabilizing the creek bank.
Non-invasive remediation would leave the existing piping in service, so the condition of the exposed pipe was given close scrutiny. 
With the integrity of the pipeline confirmed, a contractor specializing in non-invasive exposure remediation was engaged, and the contractor developed a plan to line the creek banks, and cover the exposed portion of pipeline, with inflatable grout matting. A Farnsworth Group survey crew handled the needed surveying, and collected the topographic data required for design. Additionally, the crew performed a tree count for use in environmental permitting. 
With the topographic surveying complete, the contractor was able to finalize their design and Farnsworth Group prepared a detailed construction workspace plan showing right-of-way, temporary workspace, and the project access route. A plat and legal description for the additional right-of-way that would be needed for installation of the grout mat were also created. 
When design, drafting, and surveying were complete, Farnsworth Group continued to provide management during permitting, land acquisition, and, finally, construction. The project was successfully completed in the fall of 2013. After construction, a Farnsworth Group surveyor returned to the site one final time to set a permanent project benchmark. The benchmark was a permit condition stipulated by the Kansas Department of Natural Resources and, when it was in place, a signed and sealed affidavit documenting the coordinates and elevation of the benchmark was provided to the client.