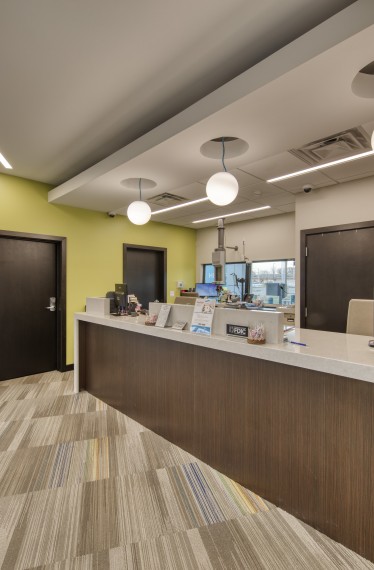 Small-Scale Banking with Large-Scale Design Impact
Farnsworth Group worked with Hickory Point Bank in Decatur to design this micro-branch to replace  an aging facility in an inconvenient location.  
The 970 SF building nestles between Route 51 and a residential neighborhood in Decatur, Illinois, providing a balance of integrated technologies that appeal to a younger clientele while still offering a more traditional hometown customer service experience.
Farnsworth Group solved many challenges involving the scale of the building relative to the site, such as adapting a drive thru facility and providing adequate parking. The interior challenges were manifold as well, thoughtfully creating an interior layout with excellent utility of space and the desirable open feel, while also still respecting client confidentiality needs.
Despite its small-scale format, the new micro-branch boasts many services, including  a traditional walk-up teller line, commercial lenders available on-site, employee break room, as well as various tech-merging self-service options with in-house assistance available just steps away.