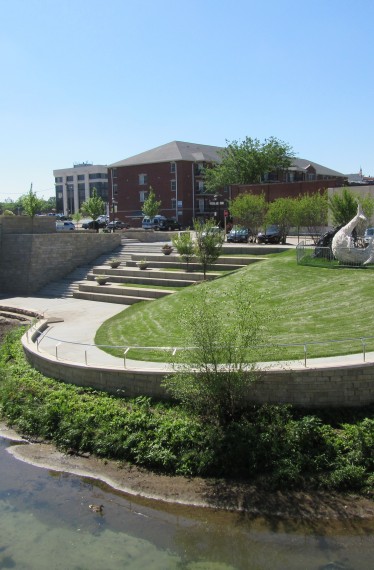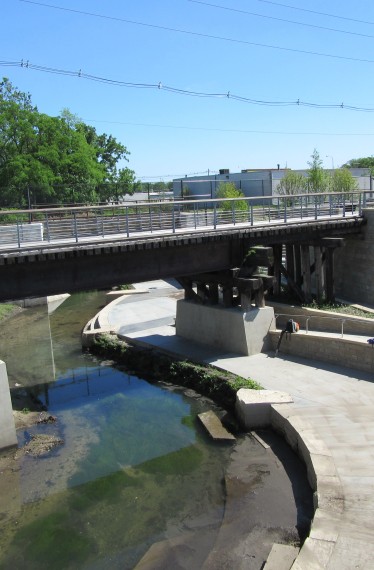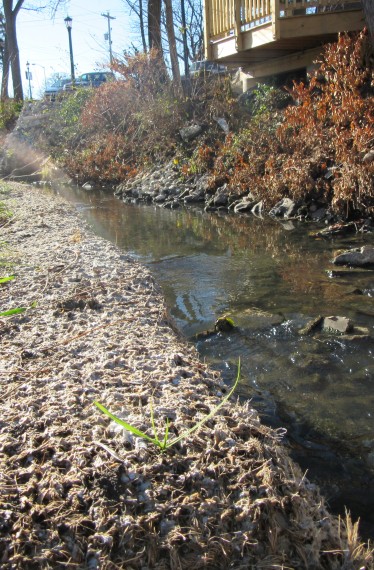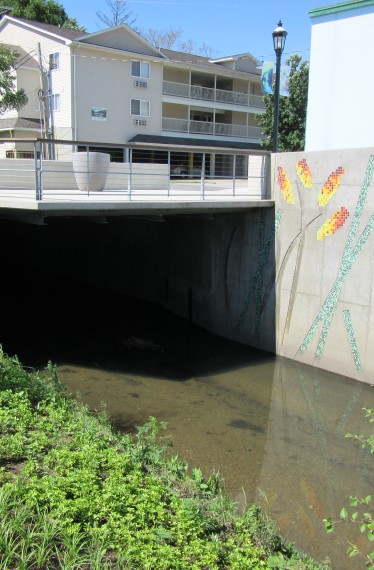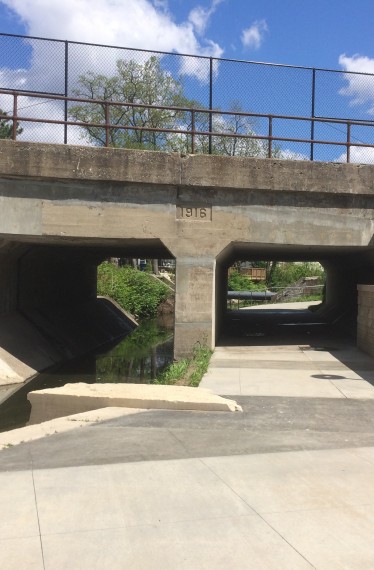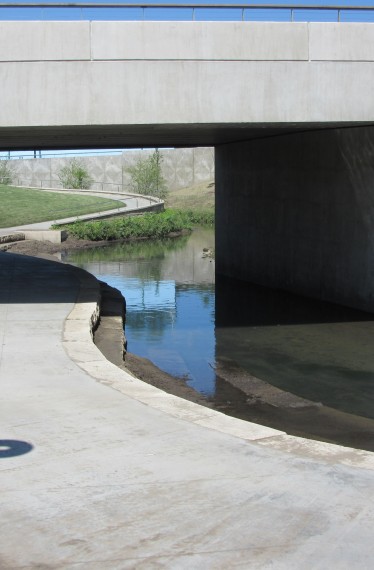 Stormwater Project Transforms Downtown Urbana
The Boneyard Creek is a 3.3 mile long urban waterway that runs through the Cities of Urbana and Champaign, and the University of Illinois campus, eventually discharging into the Saline Branch drainage ditch north of downtown Urbana. The Creek's 5,311 acre watershed is completely urbanized. Flooding and water quality have been issues of concern for the communities through which it flows. As part of a larger effort to energize the downtown area, the City Council wished to create and implement improvements to the Boneyard Creek between Griggs Street and Broadway Avenue.

The creek channel between Griggs and Race Street consisted of vertical metal sheet pile walls with a flat concrete bottom and was completely surrounded by a barbed-wire topped chain link fence. The channel between Race Street and Broadway Avenue was overgrown with invasive vegetation and had steep streambanks that made the creek inaccessible to the public. The chain-link fences and sheet pile walls were removed and the creek banks laid back to create a feeling of openness and security in the park.

The existing abandoned railroad trestle bridge was repurposed by repairing its deteriorated timber piles, while a decked walkway, lighting, and a decorative guardrail were added to the bridge structure. The trestle bridge deck also serves as an overlook above the gathering area and connects pedestrians from Race Street to the community theater.

A multi-use path for pedestrians and cyclists was constructed along the edge of the creek from Griggs Street to Broadway Avenue. The existing double box culverts that span beneath an active rail line were modified to create a trail through one of the culverts so that the park is connected on the north and south sides of the rail tracks. The trail through the culvert is safe for pedestrians during non-flood levels (and it does not impede flood levels). This connection provides a continuous trail from Griggs Street to Broadway Avenue that is not interrupted by vehicular or train traffic.

The Race Street and Broadway Avenue streetscape projects were designed to extend the current streetscape on Race Street south of Griggs Street and south of Water Street on Broadway Avenue up to University Avenue. The pavement cross section on Broadway Avenue was reduced through a road diet and the parkways were widened to provide additional green space along the corridor. Bike lanes were added to Broadway Avenue and sidewalks were widened on both streets to provide for complete streets accessible to all modes of transportation.

The completed improvements transformed the project area, creating a linear park and destination point for downtown Urbana. While the land area surrounding the Boneyard Creek was comprised of stable businesses including a restaurant and community theater, there were underutilized properties and expansive underused parking lots. Growth is now anticipated for this area and a great opportunity has been created to reuse underutilized properties.