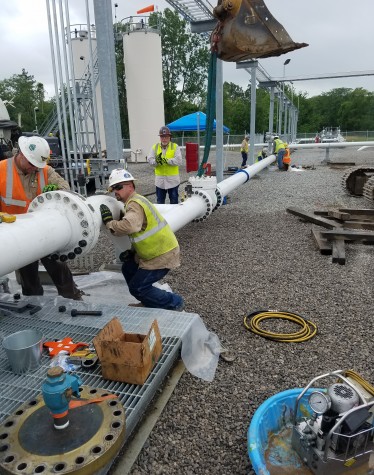 Nitrogen Purge, Commissioning, & Decommissioning
Oil and gas pipeline systems often need to be modified and used in different ways to expand the flow of crude oil, refined products, and natural gas across our nation. The shutdown, isolation, and invasive work on critical pipelines and facilities must be planned carefully, taking all key stakeholders' input into consideration to develop a detailed execution plan. Farnsworth Group has provided plan development expertise and trusted guidance for dozens of commissioning and decommissioning projects over the last 20 years, including some very non-conventional applications.
ASSET UPTIME IS A KEY METRIC TO SUCCESS
We understand that the client's success is dependent on keeping pipelines and facilities in operation, and that downtime should be minimized during the work execution. Farnsworth Group works directly with the client's scheduling, operational, and project planning stakeholders to ensure the work planning constraints are understood and risks mitigated during the plan execution. Requirements for successful execution are included in the detailed execution plan so the client can be confident that all personnel are working together in the client's interests.
Whether the project application includes the evacuation or first fill of a pipeline, nitrogen purging and nitrogen blowdown, product conversion, flow reversal, facility upgrade/modification, first filling of tanks or spheres, or line stopping and bypassing, Farnsworth Group has the expertise and necessary experience to help. We have completed detailed design and planning documents for over 175 nitrogen purges for over 5,000 pipe miles, including the evacuation of a 633-mile, 40 IN crude line. 
Services
Commissioning/decommissioning plan development

Nitrogen purge modeling

Nitrogen blowdown modeling

Nitrogen supplier coordination

Pig specification

Field support

Temporary piping design per ASME B31.3 and ASME B31.4

40 CFR Part 112 SPCC Plan development for temporary tankage

Schedules for asset downtime planning

Full-scope execution binders for operational and contract personnel use in the field
/ For more information contact goconnor [at] f-w.com (Greg O'Connor, PE)title="E-mail goconnor [at] f-w.com" or dbrookman [at] f-w.com (Deric Brookman, PE.)title="E-mail dbrookman [at] f-w.com"
Successful Commissioning and Decommissioning Requires A Well-Written Plan
Learn More About Our Services