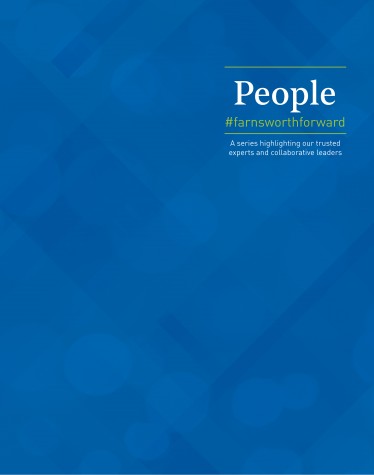 Q&A with Brad Nelson, AIA
Brad Nelson, AIA, serves as an Architectural Manager in Denver, CO. We recently caught up with him as part of our people, passion, and performance series.
Quick Facts about Brad /
Brad grew up in Colorado. He is a University of Colorado Boulder graduate. He has a bachelor's degree in Environmental Design.
He is a "hometown" fan and cheers the Broncos, Avalanche, Nuggets, Buffs and Red Sox.
Recent read: The Martian by Andy Weir (according to Brad it was "super nerdy and very entertaining.")
Hobbies: mountain biking, camping, hiking and SUP (Stand Up Paddle Boarding)
Brad has worked with Farnsworth Group for seven years.
In your opinion, what takes an architecture, engineering, or survey project from good, to great? Great architecture is taking the aspirations of your client and exceeding them in every way. From design to execution.
How has technology influenced your career? I started my career at the beginning of the influence of CAD. To see where computers are today, the programs they run now, and how we utilize them is leaps and bounds from when I started.
We are great because as a whole team we can offer services that other firms need to search out. We have a railroad expert!
How would you describe your work team? My work team is my work family. We look out for each other and depend on each other every day. Without my team, nothing would get done. I trust them and they continue to show me that we are all in this together as we work to make every project a success.
What is the best advice you ever received? It's a tie between, "never memorize something you can always look up" and "always take the high road."
Talk about some of your career milestones or achievements. I am able to call myself an expert on curling dedicated facilities, having designed two (the only two in the state of Colorado).
Talk about a favorite boss or mentor and why you liked them. Unfortunately, my favorite mentor / boss / friend just retired and it will be a huge adjustment to life without him. I appreciate that I could always count on him to give me the honest truth in most situations. I could also count on his years of experience and wisdom as I grew as an architect learning from him.
Once a month we'll be spotlighting one of our great PEOPLE, someone who is moving us forward.
#farnsworthforward