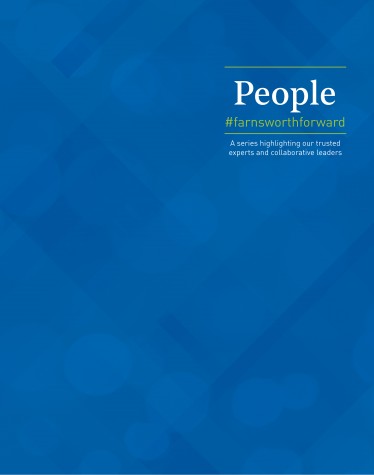 Continuing in our People, Passion, and Performance series, we recently spoke with Sean Ireland, who serves as an Engineering Associate II for our Bloomington, IL office.
What's great about Farnsworth Group? The commitment and dedication of its employees to deliver for our clients and the communities we serve. That and the welcoming atmosphere, resources, and recognition Farnsworth gives those employees.
How has technology influenced your career? If technology were the hare, then I'd be a snail. The internet has shaped my life and has a watermark on every moment. The practice of hand drafting as my father spent tireless hours doing has been replaced by keyboard commands I use today to help turn around entire developments in a fraction of the time. Although there is pressure to accomplish more in a shorter period of time because technology allows it, it is critical that the fundamental knowledge and conditioned problem-solving pre- "search engine" era is not lost in programs and simulators as mistakes are just as costly. I am just as exhilarated as I am intimidated by how future technological advancements will continue to shape my career.
How would you describe your work team? I would describe my work team as supportive, insightful, experienced, and always good for a laugh. I am most grateful for the range of different professional backgrounds and experiences shared by all those I have had the opportunity to work with at Farnsworth Group (my immediate team and the greater Farnsworth team) as I see it as another opportunity to learn from their areas of expertise and adapt my approach to becoming a more well-rounded, efficient team member. Shout out to my immediate team for their aid in my professional growth (Neil Finlen, Brandon Lott, Greg Connor, Craig Earl, and Anthony O'Neil).
What was your favorite toy as a kid?
LEGO's. My mom would have to pry me away from them so I would eat and sleep.
What's your favorite indulgent food?
Sushi!
When you were growing up, what was your dream profession?
To be an Architect. I was fascinated with Frank Lloyd Wright and my dad studied architecture in college. When I got to high school, my interests shifted to engineering, but I would still love to travel the world and marvel at great architectural and engineering wonders.
What's one thing you're currently trying to make a habit?
Daily Journaling to help strengthen writing skills, to improve memory, to help reflect on goals, and to limit screen time.
What three words would your friends use to describe you?
Genuine, affable, sociable
What's the top destination on your must-visit list?
Ireland is definitely on my bucket list of destinations to visit. Surprise!