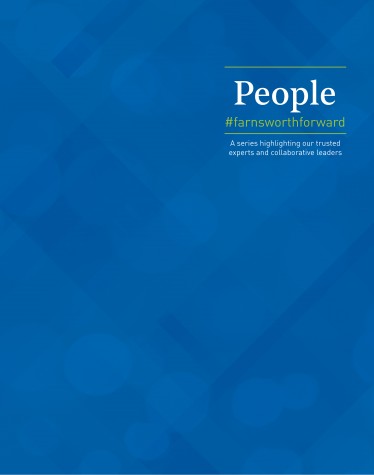 Q&A with Michael Peplow, PE
Continuing our people, passion, and performance series, we recently spoke with Michael Peplow, PE, who serves as a Senior Engineer in our Lisle, IL, Transportation Group.
Quick Facts about Michael
While attending Bradley University Michael found a love for transportation as he likes "being able to improve the general publics' daily life through [his] projects."
Michaels' favorite sports teams include: Chicago Cubs, AFC Bournemouth, and Bradley University Basketball.
Outside of work Michael enjoys spending time with his wife, Tera, and their two daughters Chase (2.5) and Skyler (1.5).
What's great about Farnsworth Group? You get the opportunity to work on a very diverse group of projects. I mainly work in transportation, but I have been able to work on projects in our Structural, Water Resources, Oil and Gas, Utility Relocation, Land Development, and even Architecture sections.
Talk about some of your career milestones or achievements. My first major project coincided with my transfer from the Peoria, IL, office to Lisle to oversee the reconstruction of Egyptian Trail in Monee, IL. I take great pride in that project, and it has been a fantastic resource to lean back on for design and construction observation going forward. I also passed the PE exam not long after it was completed, so that time was a highlight of my career at Farnsworth Group.
What is the best advice you ever received? Know your gifts and know your role. It's something that I picked up being part of basketball coaching staffs. I was fortunate to coach at my college, high school, and grade school before and during my engineering career, and this can be applied to all team settings. It means knowing what you're good at, and applying that to what you're being asked to do as part of a team. That doesn't mean that your talents can't increase, and your role can't expand or change, but keeping in mind your abilities and how they best serve your team is a great way to contribute to success.
Talk about a favorite boss or mentor and why you liked them. In my time at Farnsworth Group, I've been able to work with several strong supervisors who have all impacted my career with their mentorship and varied leadership styles. I feel fortunate to have been able to pick up different things from each of them and am happy that I have ongoing professional relationships with all five of the people I've reported to, and still speak with them regarding project and professional development on a consistent basis.